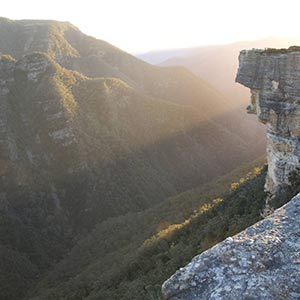 Kanangra Boyd National Park has a dramatic and rugged magnificence with the presence of high lookouts, wide gorges, scenic and wild rivers like Kowmung etc. This national park forms a part of the world heritage area of Greater Blue Mountains. Sandstone sceneries like Thurat Spires, Mount Cloudmaker, Kanangra Walls present in the park are highly magnificent.
Fauna of the Park
There are 235 species of vertebrate fauna in the park. This comprises of 8 nocturnal birds, 124 diurnal birds, 8 arboreal mammals, 16 bats, 18 frogs, 34 reptiles, 15 ground mammals and 12 introduced species. This park also comprises of 18 threatened species some of which are glossy black cockatoo, yellow bellied glider, powerful owl etc.
Activities at the Park
Activities like backpack camping and extended walks are available for bushwalkers. Car based camping is also available at the Boyd Crossing for families. Picnicking and bird watching are also there to enjoy.
Facilities