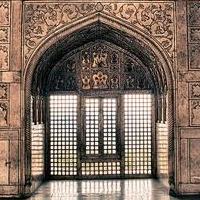 Jehangir's palace is the largest private residence in the Agra Fort built by Akbar for his son. The palace displays an interesting blend of Hindu and central Asian architectural styles - a contrast to the unique Moghul style which had developed by the time of Shah Jahan. The Khas Mahal is a beautiful white marble structure and the rooms underneath it were intended as a cool retreat in summer. The Shish Mahal was the harem dressing room whose walls are inlaid with tiny mirrors. The palace has a hall, called Jodhabai's dressing Room. Jodhabai was Jahangir's Hindu mother and its design and layout is essentially Hindu. Later Jahangir's queen Noorjahan used the palace. The Anguri Bagh or the grape garden was a small formal Moghul garden. The Hauz-i-Jehangri is a huge bowl that is carved out of a single stone and is kept just outside the Jehangir palace.
Interesting facts
A contrasting feature of this majestic palace is the interior painting work, which is a rare expression of the Bundela School of painting - a unique type of ornamental paintings of India.
It's an interesting structure, largely for its heavy borrowing of Hindu elements in the architecture.
Location
Within the premises of Agra fort