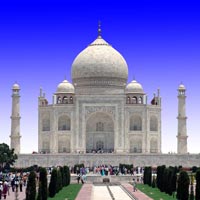 Taj Mahal located on the banks of the Yamuna River is one of the Seven Wonders of the World. The Mughal Emperor Shahjahan as a memorial built this marble tomb to his wife, Mumtaz Mahal. A dream etched in milky white pristine marble is the peerless monument portraying the beauty of eternal love! A commemoration of the memory of Shahjahan's beloved wife, Taj Mahal is indeed India's rich tribute to womanhood. The Mughal Emperors were always fond of constructing monuments. Perhaps they knew that even though they leave the mortal world, these structures would remind the world of their grandeur. Shah Jahan, the ever-constructing sultan was particularly fond of building, the proof being-the city of Shah Jahanabad as old Delhi is called today and the magnificent Taj Mahal. Even as the world is caught in the skirmishes of War and peace, Nuclear and Non-Nuclear; Taj has stood as the epitome of love, which is one of the most visited and most photographed places in the world. The incomparable Taj Mahal built by the Mughal Emperor Shahjahan as a memorial to his wife, Mumtaz Mahal, epitomizes Islamic architecture, in its purest form.
Location
On the banks of the Yamuna River, Agra
Significance
Without doubt, the Taj Mahal ranks as amongst the most perfect buildings in the world. Intended to be a commemoration of the memory of Shahjahan's beloved wife Mumtaz Mahal, in reality, it is his gift to the entire human race.
The extreme magnificence and beauty of the Taj can be appreciated fully in the subtle moonlight
Construction
The construction of the Taj commenced in 1631, and was completed in 1653. Situated on the banks of the Yamuna, the Taj is enclosed in a garden amidst fountains and ornamental trees.
Workers were gathered from all over the country and from Central Asia, and about 20,000 people were recruited to translate this wild dream into a reality. The main architect was Ustad Isa Khan, who was brought all the way from Shiraz in Iran.
The walled complex includes two mosques and an imposing gateway. The tomb is encased in white marble that is decorated with flawless sculptures and inlaid design of flowers and calligraphy cut from precious gems.
Below the dome, in a dimly lit chamber, lie the mortal remains of Shahjahan and his beloved queen Mumtaz Mahal, reminding the world of their undying love.
The silver light of the full moon shines upon the cool white dome of the Taj softly glowing in the night air. However, the radiance of dawn and the orange glow of sunset also illumine the splendor of this beautiful monument.
Even in the bright light of the day, this marble wonder shines with an awe-inspiring loveliness.