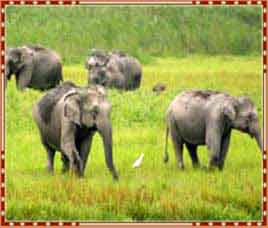 Chandaka Elephant Reserve is situated in the state of Orissa and is only one of its type in India. Chandaka Forest other than being only one of its type is also a fascinating and dense forest and is also an ideal place for activities for eco tourism. As is evident from the name, elephants dominate the reserve and generally embark out at night. For an enthralling experience, one should spend an evening on a watch tower within the reserve. Such an experience also makes one feel as if one is away from civilization. Many majestic animals have made Chandaka Forest as their home and are also seen quite frequently in the reserve. But one needs to be careful of these wild animals since they can get dangerous at times.
Fauna
Apart from the pleasing elephants, bear, chital, sambar, pea-fowl and some other animals are also witnessed in the vicinity of the reserve. Pugmarks of cheetahs have also been spotted within the forest.
Other Attractions
Bokaghat which is located at a distance of 22 km.
Best Time to Visit
November to April