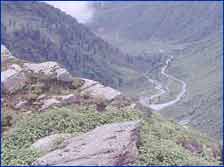 Fast facts
Area covered-
31square.kilometers.
Altitude-
3292m- 4116m.
Location-
The sanctuary is at a distance of around 31kms from Gangtok, the capital city of Sikkim.
Explore the beauties of Kyongnosla Alpine Sanctuary!
The Kyongnosla Alpine Sanctuary is located around 31kms from Gangtok. The sanctuary covers an area of around 31sq.kms and abounds in natural beauty. The height of the sanctuary varies from place to place and mostly ranges between 3292m to 4116m. The sanctuary is located near the famous Tsomgo Lake. The sanctuary is the perfect place for trekking and thus each and every year large number of trekkers visits the place. The time period between the months of October-November is the ideal time for visiting the place.
Flora-
The sanctuary is very rich in natural vegetation cover and comprises of various rare species of plants and trees that are hard to find somewhere else. Some of the common species of vegetation seen here are tall juniper, rhododendron, silver fir, orchid, primulas, gentians, wild strawberries, rare panax, irises etc. The sanctuary also has various species of medicinal plants like Nilo Bikh, Kutki, Jatamasi, etc.
Fauna-
Various types animals can be seen here like Himalayan Black Bear, Musk Deer, Blood Pheasant, Leopard, Red Panda, Common Langur, Himalayan Marmot, Serow, Yellow throated Martens Weasel, Lesser Cats, Satyr Tragopan etc.
Avifauna-
The sanctuary has various birds that include both residential as well as migratory birds. Some of the commonly seen birds are Monal Pheasant, Laughing Thrushes, Satyr, Snow Partridges, Redbilled Choughs, Redstarts, Rose Finches, Tragopan, Kestrel, Firetailed Sunbirds, Forktails and many more.
Accessibility
The sanctuary is only 31kms from Gangtok. One can easily reach the sanctuary by hiring a bus or taxi from Gangtok.