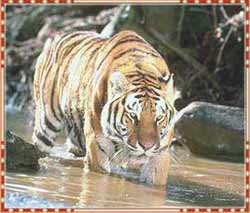 Fast facts
Date of establishment-
1959.
Area covered-
380acres.
Location-
Hyderabad, Andhra Pradesh.
About Nehru Zoological Park!
The Nehru zoological park is located in the city of Hyderabad, Andhra Pradesh. The park covers an area of around 1.2sq.kms, which abounds in natural vegetation cover. The park was established in the year 1959 but was opened for public in the year 1963. In addition to animals, the park also has a pre-historic dinosaur park, a nocturnal park, mini train, natural history museum, animal rides etc. Sometimes, the animals from this zoo are transported to other sanctuaries or parks so as to check the depletion of that particular animal.
Fauna-
The Nehru zoological park is a dwelling place of wide array of animals. Some of the common animals that can be see are Chimpanzee, Mandril, Baboons, Chacma, Rhesus, Monkeys, Common langurs, India & African lions, Panthers, Tigers, Wolves, Bears, Hyenas, Rhinoceros, Elephants, Zebras, Black buck, Hippopotamus, Antelopes, American bison, Sambhar, Chousingha, Deer, Chinkara etc.
Reptiles-
The Park also comprises of various reptiles like estuarine crocodiles, Star tortoises, monitor lizards, hooded Indian Cobra, Giant rock-python, chameleons, tree snakes and many more.
Avifauna-
One can see here various species of birds like Falcons, Vultures, pheasants, Kites, Eagles, and Hawks etc.
Accessibility
Air-
Hyderabad has its own International airport.
Rail-
Hyderabad is the headquarters of the South central railway and thus is connected to all parts of the country.
Road-
The place is well connected by road to major cities.
Mir Alam Tank
In the middle of the zoo is a lake called Mir Alam Tank, attracting thousands of birds from the area. One can watch a variety of birds like Peacock, Rosy Pelicans, Flamingos, Storks, Pigeons, Doves, Love-Birds, Parakeets, Parrots, Pied Horn Bills, Grey-horn Bills and also a variety of Munias, Finches and Buntings.
A Prehistoric Animal Section
It has a prehistoric animal section, which houses animals not normally seen during the day and to view these rare nocturnal animals and birds like Lorises, Civets, Bats, in the daytime, a special system of lighting, which simulates bright moonlight, is arranged.

It is the premier picnic spot for the twin-cities of Hyderabad and Secunderabad.
A Safari Expedition
The zoo is the first in India to have lion safari and tiger safari. Its undulating landscape provides a natural setting displayed in large habitat-simulating enclosures. Inside the zoo grounds is a Natural History Museum.
Fauna
Primates like Chimpanzee from Central Africa, Mandrill, Orangatun, Chacma, Olive and yellow baboons (in open islands) etc. and Indian primates include Rhesus, Bonnet, and Monkeys (stump-tailed, lion-tailed and pig-tailed), Golden and common langurs are housed in the zoo.

Carnivores like African and Indian lions, Tigers, panthers, jackals, wolves, hyenas, bears etc and reptiles like Giant/ Star tortoises, water turtles, Estuarine crocodiles in open pools, Monitor lizards and chameleons share enclosures, hooded Indian Cobra, Russels Viper, Giant rock-python, tree snakes etc are also found here.

Elephants, Rhinoceros, Hippopotamus, Zebras, American bison, Antelopes, Black buck, Chousingha, Chinkara, Deer, Sambhar, Brow Antler Deer etc. are the herbivores one can enjoy watching.