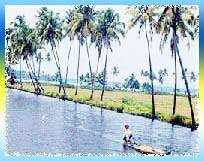 Kollam is situated close to Arabian Coast and is an old and extremely popular seaport town. Kollam city consists of a lot of popular and beautiful beaches. Many lagoons, natural harbors and coconut groves surround the beach. While on a tour of Kollam, you have the option to see many beaches that are extremely eye-catching. One of the most popular beaches of Kollam is Thangasseri Beach which is around five kms away from the town and is spread across an area of three kms. Thangasseri consists of many
popular historical places
to explore. There are many old historical Portuguese churches and forts that were constructed in 18th centaury. One of the major attractions is Thangasseri Lighthouse which is open for each and every visitor.
Additional beauty of Thirumullavaram Beach
Another popular beach is Thirumullavaram Beach which is about six kilometers away from the town and is situated in the Northern region. It is a popular and beautiful picnic spot and is connected to the Kollam town by road. The beach is equipped with number of facilities. Thirumullavaram Beach is worth visiting while you are on Kollam tour.
Boarding at Thirumullavaram Beach
One can get at Thirumullavaram Beach by any choice of transportations as is linked to airways and roadways. The international and domestic airport is just 76 km away. For people preferring railways, Kollam railway station is very near to the place.