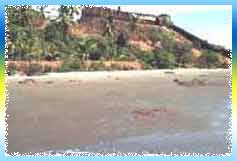 Majorda is a vast beach situated nearby Vasco port city. Majorda is a popular picnic spot but is not frequently flocked by people.
Fable
The legend has it that Lord Rama was kidnapped during his childhood days and was brought here at Majorda. Later while searching for Sita, he camped here at Cabo de Rama, where there is a fort now.
Locality
Majorda is situated in Salcete and is counted amongst lesser developed beaches of Goa. The place holds a special charm with number of fishing villages located here and there under palm groves. All the villages in the area are well-off because of the fact that men from almost each and every family are working in gulf countries. Majorda beach resorts are located in South Bogmalo. The famous Goan Toddy is available here. These resorts are assisted by some of the classiest people that add your mood of pleasure.