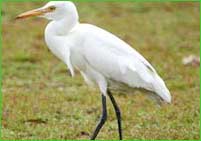 Information
Area occupied-
404square. Kilometers.
Location-
Situated around 50kilometers from the city of Chennai in the district of Nellore, Andhra Pradesh.
Chief Attraction-
Pelican birds that migrate here each and every year. In Southeast Asia, it is the main habitat of pelican.
Explore Nelapattu Bird Sanctuary
Nelapattu Bird Sanctuary is a well known bird sanctuary in India and is the favorite spot of migration for pelicans. The sanctuary covers around 40,040 ha of area and is also located near Pulicat Lake, which is also known as the 2nd largest salt lake in India. The time period between Octobers to March is the ideal time to visit the sanctuary. Below given are the hallmarks of Nelapattu Bird Sanctuary.
Avifauna-
The sanctuary holds a large species of birds that include spotted belied pelican, white ibis, spoon bill, open billed stork, night heron, little cormorant, painted stork, babblers, coot, waders, flamingos and many more.
Fauna-
Barring birds, the sanctuary is a home to various mammals like slender loris, jackals, spotted deer