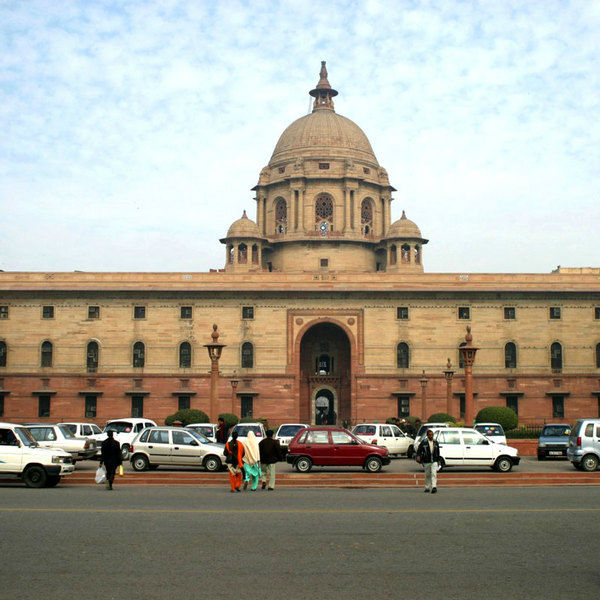 Literally known as the Presidential Residence, Rashtrapati Bhawan is the home to the most powerful authority in the government of India that is President of India. This is an enormous building consisting of 340 rooms including the President's official residence, halls, guest rooms and offices. Apart from the main building it also has huge presidential gardens popularly known as Mughal Gardens, large open spaces, residences of bodyguards and staff, stables, other offices and utilities within its bounded walls. Initially the main palace building was known by the name of Viceroy's House.

The construction of Rashtrapati Bhawan covers an area of 200,000 square feet nearly a massive number of 700 million bricks and three million cubic feet of stone has been put to use, leaving no space for even a minute particle of steel. Indian architecture comes with a package of water feature hence, variety of circular stone basins were added. Giving a traditional touch there is also a chajja replacing classical architecture's frieze, prevents harsh sunlight from the windows and also shields them during the rainy season. Chuttris on the roofline erases the flatness of the roofline as it is not covered by dome. Several idols of elephants and fountains sculptures of cobras have been installed further illuminating the Indian theme.

Inspired from the Rajasthani style jaalis, enhancing red sandstone has also been installed. The posterior of the palace has 12 unevenly separated huge columns with Delhi order capitals. It also has an unusual coupling of acanthus leaves and bells that are found in Hindu temples, however, the bells were silent which meant there is no end to the end of British rule in India. To glorify his personal resemblance to the house, Lutyens added several bijou personal elements like an area of his in the garden walls and two windows which seemed to resemble the glasses which he wore.

Dome
In the middle stands a perfect example of Indian and British fusion, which is exhibiting copper work and mastered over a drum. This seems different from the rest of the building owing to its height, which is nearly twice of the rest. It is situated right in the middle point at which the diagonals of the four corners meet. An enthralling fact is that the building took 17 years to complete. However, eighteen years later India became independent.

The Mughal gardens are accessible for visiting by the general Public only during the Udyanotsav during the February-March. What draws maximum attention are the 5000 Tulips blossoming in bright o red, orange and yellow colors mixed with red and white as well. Two restorations were made to the Rashtrapati Bhawan out of which one was made by Sunita Kohli in 1985 which took 4 years to complete and the other was done in 2010 which also involved Sunita Kohli along with Charles Correa.