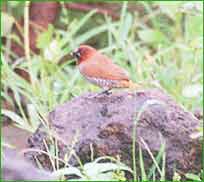 General Information
Date of Establishment-
1979.
Area Covered-
192.31square.kilometers.
Location-
The sanctuary is situated around 15kilometers from the town of Porbander that faces the Arabian Sea.
Know Barda Wildlife Sanctuary!
Barda Wildlife Sanctuary is situated at a distance of around 15kms from the Arabian Sea. The sanctuary is also known as the Rana Barda forest as in the past the place belonged to the city of Ranavav in Porbandar district, Gujarat. In the year 1979, the place was declared as a sanctuary by the government. The sanctuary covers a small area of 192.31square.kilometers but still is rich in varied vegetation cover. The place is quite hilly and the height may range from 79.2m-617.8m. The two rivers i.e. Joghri and Bileshvary carve their way through the sanctuary. The sanctuary also comprises of two dams i.e. fodara dam and the khambala dam. The area around the sanctuary is inhabited by around 4000people.
Wildlife at Barda Wildlife Sanctuary
The sanctuary is enriched with various species of plants and trees that are hard to find somewhere else. The diversity in the vegetation cover has attracted various geologists towards the place in search for natural remedies to various ailments. Various species of animals like leopard, wolf, crocodile, chameleon, snakes, ratel, spotted deer, chinkara, sambar etc. dwell in this sanctuary. Earlier, Asiatic lions were found here but now they have been mover to the Gir sanctuary. One can also see various types of birds like spotted eagle, crested hawk-eagle and many more.
How to Reach!
Rail-
The closest railway station is located at Porbandar, which is at a distance of 20kms from the sanctuary.
Air-
The closest airport is situated at Porbandar (20kms).
Road-
The place is well connected by road and the closest bus station is located at Ranavav (8kms).