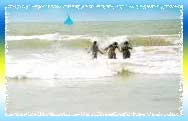 Vodarevu Beach is one of the most beautiful beaches in the world. In India it is highly valued and visitors do not miss this phenomenal artistry of the nature. After reaching here, the ambience is like paradise has boarded on the earth. Vodarevu Beach is most visited beaches in India as is very easily accessible. It is very close to the airport of main city Hyderabad and also can be easily reached by road and rail.
Vodarevu Beach: A Beauty
Vodarevu Beach is a place where is seems that heaven has boarded on earth. The beauty of the place is assisted by local cottages and hotels. Local people and their culture are some things to learn from and inherit their joy in our lives.
Get to Vodarevu Beach
Vodarevu Beach is well connected via all the means of transportations. From Chirala and Guntur that are nearby stations are just 35 km away. Plus, taxis, buses and cabs are available all the time at affordable fares. By air, Vodarevu Beach is easily accessible from Hyderabad.