10 Days/ 09 Nights Assam Arunachal Group Package (Students)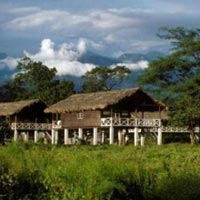 10 Days/ 09 Nights Assam Arunachal Group Package (Students)
Package Duration

10 Days / 9 Nights

Destination Covered

Guwahati - Dibrugarh - Namdapha National Park - Kaziranga National Park - Nameri National Park
Package Includes :

All transfers in MUV's, accommodations on triple share except Nameri Eco Camp where at least 14 Children could be accommodated in one dormitory & the rest in triple share, all meals, entry fees, jeep safari charges, raft charges, ILP ( Inner Line Permit) charges for Arunachal, guide charges, driver charges, service tax to Govt.(@3.09%) for 10 days full.
Group of 40 or above.
An expert driver and a manager will be with you till the end of tour for your well being and comfort. Although, we organisers remain with the group in person.

Package Excludes :

Camera Fee and anything not included above.




Day 1: Guwahati Railway Station

Meals: All Veg Meals




Upon arrival at Guwahati Railway Station transfer to hotel. Later have some sightseeing at Guwahati followed by a river cruise on the mighty river Brahmaputra. Overnight at Brahmaputra Jungle Resort/similar.

Day 2: Guwahati-Dibrugarh(08 hr)

Meals: All Veg Meals




Transfer to Dibrugarh in Eastern Assam. Overnight at Dibrugarh Club House/Tanay's Dibrugarh Residency.

Day 3: Dibrugarh - Namdapha NP (05-06 hr)

Meals: All Veg Meals




Transfer to Namdapha NP in Eastern Arunachal close to Myanmar border. Overnight at Forest Rest House/Lodge/Camps. Namdapha is one of the excellent National Parks in India located in the eastern end of Arunachal bordering Myanmar. Covering an area of about 2000 sqr km Namdapha is a Project Tiger and it is reputed for harbouring all the four big Himalayan cats: Tiger, Leopard, Clouded Leopard and Snow Leopard. With altitudes ranging from 200 mtr to over 4500 mtr (accessible up to 850 mtr), the park has a habitat of tropical, temperate & alpine forests. Namdapha's great altitudinal variations have resulted in a great diversity of birds. It has about 300 or more bird species.

Day 4: Namdapha NP

Meals: All Veg Meals




Trek towards Hawai camp & later return and rest of the day by the sparkling river Noa dehing.

Day 5: Namdapha NP

Meals: All Veg Meals




Trek to Haldibari(3-4 hr) and return to Lodge/Camp.

Day 6: Namdapha NP-Kaziranga(08-09 hr)

Meals: All Veg Meals




Transfer to Kaziranga National Park in central Assam. Overnight at hotel Wild Grass Resort/Bonhabi Resort/Dhanshree Resort. Home to the Great Indian one horned rhinoceros(population 2000+), Kaziranga National Park is one of the best parks in the world. With an area of 860 sqr km (after recent additions) of low lying grasslands, shallow waterbodies & woodlands this is a UNESCO World Heritage Site in Assam. Kaziranga is excellent for mammal viewing. The park recently celebrated 100 years of its protected area status. Kaziranga was brought under the Project Tiger recently. There are 86 Royal Bengal Tigers as per 2000 Census. Kaziranga has 70% of the world population of Eastern Swamp Deer and Asiatic Water Buffalos. Till now 490 species of birds (25 of them globally threatened) have been recorded at Kaziranga so far & an ardent birder is likely to find more.

Day 7: Kaziranga NP

Meals: All Veg Meals




02 jeep safaris covering central & Western/Eastern Ranges.

Day 8: Kaziranga-Nameri NP (2.5 hr)

Meals: All Veg Meals




Transfer to Nameri National Park close to Western Arunachal border. We take up river rafting on the sparkling river Jiabhoroli which forms the Western boundary to Nameri. Rest of the people will go for a jungle trek.

Overnight at Eco Camp, a camp resort.

Covering an area of 200 sq km, Nameri National Park, located at the foothills of the Eastern Himalayas, is the best place to see the very rare & elusive White-winged Wood Duck. Nameri is a project tiger. The sparkling river Jia Bhoroli, which is ideal for rafting and angling, flows down by the National Park adding a unique charm to it. The habitat of the park consists of tropical evergreen, semi evergreen, moist deciduous forests with cane and bamboo brakes and narrow strips of open grassland along rivers. Nameri along with adjacent Pakke & neighbouring Eaglenest Wild Life Sanctuaries of Western Arunachal protects about 1300 Sqr km of great bio-diversity.

Day 9: Nameri NP

Meals: All Veg Meals




Rafting for those missing out the previous day in batches. Rest may opt for jungle trek.

Day 10: Nameri - Guwahati Railway station transfer (05 hr)

Meals: All Veg Meals




Transfer to Guwahati Railway Station. The end of the tour.

Package Terms & Conditions :

Special Information & Instructions
Any additional expenses caused by, or liability for, disturbance in trip due to circumstances beyond our control such as airline, road blocks, vehicle malfunctions, weather, sickness, natural disasters, war, riots, etc. Liability for insurance against injury, loss of life, accidents, damage or loss of goods. In case of medical emergencies, first aid will be provided and sent to nearest medical facilities at individual cost. Good number of personal clothing including track suits, toiletries, trekking shoes, shocks, cap, full sleeve dress, 2 Ltr water bottle in rack shake to be brought in light. No suitcases please as all are going to jungle and high altitudes. Namdapha and Arunachal jungles are impossible by mini bus or buses; hence all will be ferried in MUV s under escort & guide. Starting/departure point will be at Guwahati Rly Station only. We will take care from there. We will provide blanket, sheet, bed etc. But need bring personal towels. We are working out on another high altitude site in North Assam, Arunchal Pradesh Dirang valley, Nameri camp, Kaziranga and Meghalaya-Kaziranga-Nameri. However all places can't accommodate 100 people and place for tent remain difficult with water storage problems. Still will send soon for remaining 2 batches. Operation cost are calculated at minimum and NE region still lacks of lot of facilities to accommodate such large group due to difficult terrain, climate. Entire payment in full through bank.





Latest Tour Packages by
Rhino Jungle Adventures