4 Night & 5 Days Package for Four Pax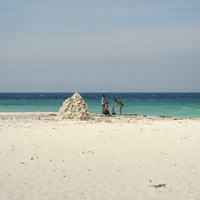 4 Night & 5 Days Package for Four Pax
Package Duration

5 Days / 4 Nights

Destination Covered

Port Blair - Ross Island - Viper Island - North Bay Island - Havelock - Baratang
Description :

Sight seen Corbyns cove beach
This picture shows the aerial view of Corbyns cove beach area in Andaman. Corbyns Cove Beach is crescent shaped sea beach of Andaman and Nicobar Islands. It is about 4 km east of Vir Savarkar airport and 7 km south of Port Blair. The beach is adorned by bunkers and pill boxes built by the Japanese. It is ideal for surfing, sea bathing and sun basking. There is also a provision for horse riding. There is also a tourist complex, the Corbyns Cove Tourism Complex, which offers a range facilities such as an air conditioned restaurant, a bar called 'The Waves', changing room and water sports. Sun rise at Corbyns cove beach is just unforgettable.

The beautiful Wandoor beach is situated at Mahatma Gandhi marine national park, around 30 Kms from Port Blair. For traveling to Jolly buoy and Red skin islands, people have to reach this place by road and board the ship (port charter boats). Nearly 15 islands are located surrounding this stretch of pristine coastline. The Mahatma Gandhi National Marine park stretches about 282 Sq. Km. Small ships (port charter boats) start from this Wandoor beach towards Jolly buoy and Red Skin islands. People traveling towards Red Skin or Jolly buoy islands have to submit a security deposit of INR 100 at counter in Wandoor beach against each plastic item they like to carry along with them. Both Jolly buoy and Red Skin islands are NO PLASTIC zones. They will get the money back after returning and producing the same items at the counter. Visitors have to take tickets for each camera they would like to carry along with them towards Jolly buoy and Red Skin islands at this counter at Wandoor beach. Make sure to reach Wandoor beach before 9. 00am as the port charters will start towards Jolly buoy and Red Skin islands at 9. 00am.

North Bay Island
Located nearer to Phoenix jetty of Port Blair, this beach is also very famous for under water corals. Snorkeling and scuba diving is available. All sort of facilities are available for the people like food, clothes for rent, lockers, huts for taking rest etc Some travellers prefer to stay more time in North bay to enjoy the sea corals through snorkeling and scuba diving. Normal trip package goes with Viper island first, North bay next and Ross island last. Unlike Jolly buoy and Red skin beaches, the crowd in North bay coral beach is more. People come here in large number because of the facilities available to enjoy the beach play. Locker almirahs arrangement is available to store the valuables inside. There are huts to take shelter for those who don't want to play in the beach. Visitors moving towards North bay should be ready at Phoenix bay jetty before 9. 00am. 15-20 minutes journey from Phoenix jetty, travellers can see the land side view of Port Blair. People who are interested in Snorkeling and coral view through boat bottoms can book their choices during the journey itself.

Chatham Saw Mill
Chatham Saw Mill, owned by Forest department, is credited as one of the biggest and oldest saw mills all through Asia and is located at the north tip of Andaman. A bridge connects this saw mill to Port Blair. The mill, dating back to 1836, is a big store house for different varieties of wood including Marble, Padauk, Gurjan and Satin wood. The mill cuts massive wood into different sizes and shapes of timber and is functioning as the main source of timber for government and private agencies at a moderate price. This mill processes many types of ornamental wood suitable for making furniture and handicrafts.

ZOO
This Mini Zoo & Forest Museum has many species. The salt water crocodile breeding programme has been very successful and many crocodiles which were bred here are now in wild waters among the dense mangrove forests. Though these waters are also being used by the tourists for swimming but there has been perfect harmony between the swimmers and the crocodiles. Near the zoo is the museum maintained and run by the forest department. This unusual museum displays locally grown woods, including Padauk which has both light and dark colors present in the same tree.

Fisheries Museum
Fisheries Museum is a beautiful aquarium located near the Andaman Water Sports Complex in Port Blair. It displays more than 300 marine species, which are peculiar to the islands and those found in the Indo-Pacific and the Bay of Bengal. The aquarium is open from 08:30 to 16:00 hrs except on Mondays.

Cellular Jail
The Cellular Jail (also known as Kala Pani, literally 'Black water', a term for the deep sea and hence exile) was completed in 1906. The prison was known to house many notable Indian activists during the struggle for India's independence. The Cellular Jail is one of the murkiest chapters in the history of the colonial rule in India. Though the prison was started only in 1896, the history of using the Andaman island as a prison dates back to the Indian rebellion of 1857. Shortly after the rebellion was crushed, the British sent thousands to the gallows, hung them up from trees, or tied them to cannons and blew them up. Those who survived were exiled for life to the Andamans to sever their connections with their families and their country. 200 Freedom Fighters were transported to the islands under the custody of Major James Pattison Walker, a military doctor who had been warden of the prison at Agra. Another 733 from Karachi arrived in April, 1868. More prisoners arrived from India and Burma as the settlement grew. Anyone who belonged to the Mughal royal family, or who had sent a petition to Bahadur Shah Zafar during the Indian Rebellion of 1857 was liable to be deported to the islands.

Cottage Industries Emporium (Sagarika)
This shopping center is situated at the city, Port blair in Andaman Island. This is a cottage industry and emporium, a shopping place for the visitors. The normal package of Andaman island trip covers this place to allow travelers to purchase items. Pearls and gems are not sold here as it is against the Government's clearance.

Anthropological Museum
The small Museum is run by the Anthropological Survey (ASI) of India shows a wide selection of Andamanese tribal weapons, tools, including an entire canoe from Little Andaman. There are also many photographs on display. The Museum is interesting and a visit should be a Must for anyone finding himself or herself at Port Blair - whether specially interested in the Andamanese or not. The selection of items on display is excellent and the way they are displayed is delightfully unpretentious and clear. Upstairs of the Museum there is a well-stocked and apparently well-organized library which, it is said, "provides the scholar with invaluable references to tribal culture. "

Forest Museum
Forest Museum, set up by the Forest Department, is located at Haddo in Andaman District of Andaman and Nicobar Islands. The museum exhibits the ornamental pieces made of various types of timber such as paduak, oak, peauma, gurjan and satin wood.

Harbour Cruise
Harbour cruise provides a unique experience of cruising along the harbour on a boat leaving from Phoenix Bay Jetty. The panoramic view of seven points from the sea, harbour, the floating dock, Viper Island, etc., are memorable.

Andaman Water Sports Complex
Andaman Water Sports Complex, in the north-west Port Blair close to the Cellular Jail, is a unique sport complex in India of its own kind. It offers all possible aqua sport facilities for safe and adventurous water sports such as rowing boats, paddle boats, kayaks, water-skiing, water scooters, gemini boats, para-sailing and sail boats. The complex comes alive every afternoon with outboard motors. Riding towards Ross Island is an enchanting experience. One can also see a monument which was built to honor the Battle of Aberdeen, fought between the British and Andamanese.

Gandhi Park
This beautiful park at port Blair has facilities like children's park, amusement park, entertainment park, deer and bird park, water sports, nature trail, lake, garden, restaurant and Japanese temple, as well as a bunker. The erstwhile Dilthaman Tank, which was the only source of drinking water to Port Blair has been developed into Gandhi Park in unbelievably short time of 13 days.

Ross Island
Ross Island, a few km from Aberdeen jetty at Port Blair, is yet another member of the Andaman group of islands. As in the case of its sister-islands, it also has thick forests. To any onlooker it may give the impression that it has no "life" - in the sense that there is no human habitation. Yes, it is an island where no settlement is allowed by the authorities. But, a few decades ago, this island was the seat of "British power." Ross Island was the headquarters of the Indian Penal Settlement for nearly 80 years. It had everything - bazaar, bakery, stores, water treatment plant, church, tennis court, printing press, secretariat, hospital, cemetery and what have you. Today, everything has disappeared except some buildings, which housed some of these landmarks.

Samudrika
Samudrika Naval Marine Museum, managed by the Indian Navy, is located opposite to the Andaman Teal House in Port Blair, Andaman and Nicobar Islands. The museum is divided into 5 sections, which depict the history and geography of the islands, people, marine life and archeology. With an aim to create awareness on various aspects of oceanic environment, the museum also has a wide collection of shells, corals and many species of fish.

Light & Sound Show
Cellular jail, one of the biggest jail in Asia, is now a national monument located at Atlanta point. It has got a museum exhibiting the then prison life. Evening (5. 30pm) there will be sound and light show about the historical events regarding this place.

Havelock (54 Kms In Sea Root)
Early morning departure by inter-island ferry to Havelock Island (54 Kms by sea from Port Blair). (Radhanagar) which is rated as Asia's beautiful beach by Times Magazine.




Day 1: Three Islands Tour

Meals: Breakfast




After early breakfast, full day tour by boat to visit Ross Island from where Britisher's governed the entire Andaman and Nicobar Island, prior to India's Independence. Then visit to North Bay Island (Coral Island) a ideal spot for coral viewing by glass bottom boat (Optional activity: Snorkelling) and the VIPER ISLAND - back to hotel - night halt.

Day 2: Havelock (Radhanagar)

Meals: Breakfast




Early morning departure by makruzz to Havelock Island (54 Kms by sea from Port Blair). In the afternoon hours sight seeing to Beach No. 7 (Radhanagar) which is rated as Asia's beautiful beach by Times Magazine and beach no 5 same day return back in the evening to hotel.

Day 3: Baratang

Meals: Breakfast




Very early morning departure by car from Port Blair to Baratang which is about 110 kms by road. The travel involves crossing of creeks and dense JARWA forest. Reach Baratang and sight seeing to Mud Volcano and Lime stone cave back to hotel.

Day 4: City Tour & Chidya Tapu

Meals: Breakfast




After breakfast proceed to Port Blair city sight seeing tour visiting Anthropological Museum,Cellular Jail, Samudrika, and Corbyns cove beach,Gandhi Park, Light and sound show in cellular jail and - Night halt in the hotel.

Day 5: Departure

Departure to airport with the Sweet Memories of Andaman.





Latest Tour Packages by
Andaman Adi Tours & Travels