Amaranth by Helicopter with Vaishno Devi & Kashmir (6 Nights 7 Days)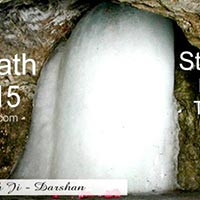 Amaranth by Helicopter with Vaishno Devi & Kashmir (6 Nights 7 Days)
Package Duration

7 Days / 6 Nights

Destination Covered

Jammu - Katra - Srinagar - Sonamarg - Neelgrath - Baltal - Amaranth - Srinagar - Gulmarg
Description :

About Amarnath Yatra
The Legend
There is famous Rigvedic Verse that says "Ekam Sat " that is "There is one Being ,the sages call Him by many names." The God (Parmeshwar) has three deities who carry on the world .This is Known as Holy Trinity. Brahma- the creator, Vishnu - the perpetuator of life and Shiva (Mahesh ) -the purifier and perpetuator of good and destroyer of evil. Rig Veda refer Shiva as Rudra as in its following verse . "We Worship Tryambaka (Rudra) , Who spread Fragrance and Increases Nourishment , May He release me ,like the cucumber from its stem , From Mortal Life , But not From Immorality . "(Rig Veda Mandal VII Sukta 59 and Mantra 12)

The Amarnath Cave has special significance .
This is The Cave which was chosen by Bhole Shankar for narrating the secrets of immortality and creation of Universe to Maa Parvati ji . The story goes like this . Centuries ago Maa Parvati asked Shiv ji to let her know why and when He started wearing the beads of heads ( Mund Mala) . Bhole Shankar replied when ever you are born I add one more head in my beads . Maa Parvati said ," My Lord, my body is destroyed every time and I die again and again, but you are Immortal. Please let me know the secret of this ." Bhole Shankar replied that it is due to Amar Katha ."

Maa Parvati insisted that she may be told that secret. For long Shiva ji continued postponing . Finally on consistent demand from Maa Parvati He made up his mind to tell the immortal secret . He started for lonely place where no living being could listen it . He choose Amarnath Cave . In preparation to that He left His Nandi ( The Bull which He used to ride ) at Pahalgam (Bail gaon) . At Chandanwari He released Moon from his hairs (Jataon). At the banks of Lake Sheshnag He released the snakes . He decided to leave his Son Ganesha at Mahagunas Parvat (Mahaganesh Hill ) . At Panjtarni, Shivji left the Five Elements behind (Earth , Water, Air , Fire and Sky) which make living being . He is the Lord of these elements. It is believed that as a symbol of sacrificing the earthly world , Shivaji and Maa Parvati had Tandav Dance . After leaving behind all these, Bhole Shankar enters the Holy Amarnath Cave along with Parvati Maa . Lord Shiva takes his Samadhi on the Deer Skin and concentrate . To ensure that no living being is able to hear the Immortal Tale , He created Rudra named Kalagni and ordered him to spread fire to eliminate every living thing in and around the Holy Cave . After this He started narrating the secret of immortality to Maa Parvati . But as a matter of chance one egg which was lying beneath the Deer skin remained protected . It is believed to be non living and more over it was protected by Shiva -Parvati Asan (Bed) . The pair of pigeons which were born out of this egg became immortal having listened the secret of immortality (Amar Katha).
Many pilgrims report seeing the pair of pigeons when they trek the arduous route to pay their obeisance before the Ice-Lingam (the phallic symbol of Shiva).

Discovery of Holy Cave
The story narrated by people about the discovery of this Holy Cave is of a Gujjar ( shepherd) Buta Malik . He is given the credit of discovering this Holy Cave . Story goes like this , that a saint gave Buta Malik a bag full of Coal. On reaching his home when he opened the bag , to his utter surprise the bag was full of gold coins . This made him overwelmed with joy. He ran to thank the Saint . But, what he found was that the Saint had disappeared . Instead , he found The Holy Cave and Shiv Lingam there in . He announced the discovery of this to the Villagers. Then onwards this has become the sacred place of Pilgrimage .
The ancient epics narrate an other story which goes like this. The valley of Kashmir was under water .It was a big lake. Kashyap Rishi drained the water through number of rivers and rivulets . In those days Bhrigu Rishi came that way on a visit to The Himalyas. He was the first to have Darshans of this Holy Cave . When people heard of the Lingam, Amarnath for them became Shiva's abode and a Centre of pilgrimage . Since then Lacs of devotees perform the pilgrimage through tough terrain and avail eternal happiness.
The trek to Amarnath, in the month of sharavan ( July–August) has the devout flock to this incredible shrine, where the image of Shiva, in the form of a Lingam, is formed naturally of an Ice Stalagmite, which waxes and wanes with the Moon's cycle . By its side are fascinating, two more Ice Lingams, that of Maa Parvati and of their son, Ganesha .

When To Take UP Yatra
The Amarnath Yatra is organised every year by the J &K Govt. during the month of sharavan ( July and August); the dates however , vary every year looking at the weather conditions and according to Purnima (Raksha Bandhan) in the month of Sharavan (Vikrama Samwat).

Yatra to Baba Amarnath Holy Cave for which one has to trek a height of about 14,500 ft is full of thrill and joy .The feeling of divine which is always beneath ones' heart , burst out and one realises 'Moksha' as one attends the Cave and perform the prayer before the Shivlinga . Surrounded by beautiful valleys, mountains , one will always feel His presence on the paradise of the earth, the memory of which hardly vanishes with time A journey which will rediscover the nature and its love which is always inside but one has never felt.

CLIMATE
The climatic conditions are very uncertain . Rain or snowfall may take place at any time or place during the Yatra . It is to be particularly noted that abrupt changes in temperature might occur . Sunny weather may turn into rain / snow fall in a short time . The temperature may fall upto -5 degree C .

How to Reach
One can reach the first part of journey through ;
Air:
The nearest aerodrome is Srinagar. Srinagar is a beautiful valley having world famous sights to see, such as Dal Lake, Nagina Lake, Shankaracharya Temple, Mughal Gardens and what not. It is the most sought after tourist place. It is also known as "Paradise on earth". Srinagar is summer capital of Jammu & Kashmir. There are daily flights to Srinagar from Delhi and Jammu. On some week days flights also pickup passengers from Chandigarh and Amritsar .
Rail:
Jammu is the nearest Railway Station . Jammu is winter Capital of Jammu & Kashmir. Jammu is a beautiful city and is also known as "CITY OF TEMPLES". One may visit old temples such as Raghunath Temple , Mahadev Mandir and other temples . It is well connected with all stations of India. The various trains coming to Jammu are listed here below.
Road :
Jammu and Srinagar are also connected through road. Buses and Taxies are also available for this part of the journey .These can be hired on daily as well as full tour basis.

Package Includes :

2 Night accommodation in Katra
1 Night accommodation in Deluxe Hotel in Sonamarg with breakfast & dinner on twin sharing basis.
3 Nights accommodation in Srinagar, Hotel / Houseboat with breakfast & dinner on twin sharing basis.
Neelgrath (near Baltal) Panchtarni Neelgrath by Helicopter.
Vaishno Devi - Helicopter Tickets
All arrival, departure, sightseeing's as per above itinerary by car with English speaking driver.
Same Day Trip Srinagar - Gulmarg - Srinagar
Car Including: Fuel, Parking, Road tax, Toll tax, State taxes and Driver Expenses.
Shikara Tour in Dal Lake.
All applicable hotel & transport taxes.

Package Excludes :

Any meals other than those specified.
Expenses of personal nature such as tips, telephone calls, laundry, liquor etc.
Any other item not specified.
Entrance fees during sightseeing




Day 1: Jammu - Katra - Vaishnodevi

Arrive Jammu , Meet and assist on arrival and proceed straight to Katra by Coach .Arrive Katra and check in at Hotel. Later proceed to Vaishnodevi Shrine (Approx. 13 km Trek Evening Trek) One can trek up to the Shrine if fitness permits, otherwise Pony or Palanquins are also available at an extra cost. Arrive at Vaishnodevi Bhawan. Wash and change before Mata Darshan. After Mata Vaishnodevi Darshan, proceed for Bhairon ji Darshan (Optional).


Day 2: Katra

After Darshan, back to Hotel and Full Day Free and Rest Overnight stay in Hotel.

Day 3: Katra - Srinagar (7 -8 Hrs)

After breakfast check out hotel and drive to Srinagar, Overnight stay in Hotel


Day 4: Srinagar - Sonamarg - Neelgrath Baltal (Maximum Time 20 Mint by car) -Amarnath Yatra Darsha

After breakfast drive to Neelgrath Baltal to begin your Amarnath Yatra by helicopter from the Neelgrath Baltal huts which are just 10 minutes walk away from the Helipad. The helicopter operates between 6:00 a.m. And 5:00 p.m. Helicopter Services is subject to weather conditions. Helicopter operates till Panchtarni then 6 kms. Trek from Panchtarni to Amarnath cave. You can also take Palki or Pony Or Natural walk. After Darshan Evening return in time to Helipad to take back Helicopter to Neelgrath Baltal. Pickup from helipad and drop to the Hotel (Sonamarg) Dinner at Hotel

Day 5: Sonamarg - Srinagar (3- 4 Hrs)

This morning after breakfast check out Hotel and drive back to Srinagar visit world famous Mughal Gardens visiting the Nishat Bagh (The garden of pleasure) and Shalimar Bagh (Abode of love), The Chasme Shahi Garden, Shankaracharya Temple, In the Evening Shikara ride on Dal Lake to enjoy the beauty of the Charchinar, Floating Gardens, After sightseeing back check in Hotel / Houseboat Overnight stay Dinner at Hotel / or Houseboat.

Day 6: Srinagar - Gulmarg - Srinagar (56km, 2-3hrs )

After breakfast transfer to Gulmarg (56km, 2-3hrs ) which is the most beautiful summer resorts in the Valley, it is also popular for its golf cores in the summer, the highest in the world and skiing during the winter season, enjoy the splendor of nature and snowing mountains, one can have a cable car from Gulmarg to Khalinmarg, Overnight at Hotel / Houseboat. Gulmarg:
which is one of the most beautiful summer resorts in the Valley, it is also popular for its golf course in (summer) , the highest in the world and skiing during the winter season. Enjoy the splendor of nature and snowing mountains one can have a cable car from Gulmarg to Khalinmarg


Day 7: Srinagar Airport for Onward Journey

After breakfast check out from hotel and transferred to Srinagar bus station Or Airport for your onward journey.





Latest Tour Packages by
Holiday Sun Park Tour & Travels