Andhra - Badradri On River Godavari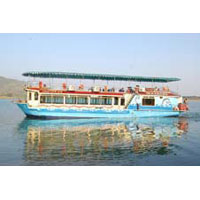 Andhra - Badradri On River Godavari
Package Duration

3 Days / 2 Nights

Destination Covered

Dwaraka - Bhadrachalam - Visakhapatnm - Vijayawada
Description :

Places to visit in Andhra Pradesh

Papi Hills

Papi Hills are fast becoming the favourite destination for nature lovers, enjoys going on the weekend pleasure trip by luxarious boats on the river godavari, takes you into a different world where nature rules in all her glory, untouched by man. One can see the picture postcard prettiness of a hilly countryside patch worked with quaint little farms, a landscape dotted with tribal habitations and river banks densely forested with the timber reserves. Feel the crisp fresh air invigorate your senses and lose yourself in the scenic beauty of the hills and its environs. The pristine waterfall at the quaint village of Perantala Palli and Ashramam is very popular with tourists. Papi hills are three in number, very tall looks like a boundry wall in the middle of river godavari, dividing East, West and Khammam district, is a lovely place whose scenery resembles the scenery of Kashmir (North India). The beautiful scenery of Papi Hills, the waterfalls at Munivaatam, and the peaceful atmosphere at this tribal area give a pleasant look and peace to visitors, making it a special attraction for tourists. The idol of Shiva under serpent shade was installed in Munivaatam. The original name for this hill range was \"Papidi Kondalu\". Papidi is a rough translation for partition in Telugu. Since this range looks like a well designed partition that splits river Godavari, this name was coined. In due course, it settled for \"Papi Kondalu\".

Bhadrachalam

Bhadrachalam is situated on the left bank of sacred and perennial river Godavari, about 70 km from Khammam of Andhra Pradesh. Sree Seetha Ramachandra Swamy shrine is most famous temple in country. It is is a sacred pilgrimage for hindus, considered to be one the greatest holy shrines in south India with a very rich and unique historical background. The temple was constructed in the 17th Century by the local Tahsildar Kancharla Gopanna, popularly known as Bhakta Ramadas, a fervent devotee of Lord Sree Rama. housing one of the most famous and splendorous temples dedicated to Lord Sri Rama. The puranic and historic facts relate that Lord Rama long after he had shed his mortal coils manifested himself to save his devotee Bhadra Maharshi whom he promised \"moksha\" after intensive pepance until tretha yuga was over and Lord Rama, who was an incarnation Lord Vishnu, was back to this original avatar. Pleased by Bhadra\'s devotion, he appeared in form of Lord Rama (as per Bhadra\'s wishes) and granted him moksha. The Hillok on which Bhadra Maharishi did penance and attained moksha, is called Bhadragiri / Bhadrachalam. Another legend associated with the place is that Lord once appeared in dream of a woman called Pokala Dammakka and informed her about the existence of idols on the Bhadragiri hills. To her surprise she found the Vigrahas on Bhadragiri hills and pu up modest structure. This was origin of the present temple.

Dwaraka Tirumala

Dwaraka Tirumala is a holy place in West Godavari District of Andhra Pradesh. Located about 39 km from Eluru, Dwaraka Tirumala is the site of Sri Venkateshwara Swamy temple, which is located on a hill named Seshadri. The place got its name from a saint, Dwaraka, who unearthed the self-manifested idol of Sri Venkateshwara (Lord Vishnu). It is also called as Chinna Tirupati, after Tirupati. Dwaraka Tirumala is 18 km from Bhimadole Railway Station, which is on the main Railway line between Vijayawada and Visakhapatnm.

Package Includes :

A) Pick up from Railway Station.
B) A/c. Road transportation.
c) A/c. Boat transportation.
D) Motor launch transport from Kolluru to Pochavaram.
E) Fresh up in Non A/c. room.
F) Non A/c. accommodation in bamboo huts, Kolluru on the bank of river godavari on 1st day.
G) A/c. accommodation in Bhadrachalam (on family sharing basis) on 2nd day.
H) 1st day: Breakfast, Veg.lunch, Evening snacks, Non veg. Dinner.
I) 2nd day: Breakfast, Non veg. lunch, Evening snacks,Veg. dinner.
J) 3rd day: Breakfast, veg. lunch, Evening snacks, Veg. Dinner.
K) All entry fees.
L) Drop at Railway Station.




Day 1:

Road Journery by A/c Vehicle upto boating unit, Purushothapatnam (35km- 1hour). Check in to River Cruise, journery on holy River godavari over Papi hills (65km-5hours). View on boat "Polavaram Project Area", Devi Patnam Old Police Station. On the way visit Gandiposamma Temple. Reach Papi hills which are very tall situated as a boundary wall in middest of river godavari, here river passing through with high pressure in between these hill, later reach Parentapalli Tribal Village, visit Ramakrishna Ashramam then reach camp site Kolluru Tribal village located on river bank at Papi hills reserve forest. Check out boat, local sight seeing. Allotment of bamboo huts. Night stay with campfire.

Day 2:

Local sight seeing by jungle walk up to 2km, reach stream "Deyyalagondi", bathing and return to campsite. Afternoon journey by motor launch to Poachavaram (30 km - 2hours), check out launch then road journey by A/c. Vehicle to Bhadrachalam ( 75 km – 11/2 hours journey). Reach Bhadrachalam check in to A/c. room, night stay.

Day 3:

Director darshan of Lord Rama by 6 AM, then proceed to Parnasala (40 km 1 hour journey), visit Panchavati, God Sreerama's Rock Simhasanam, Goddes Seethamma's fibre saree prints on rock etc., and back to Bhadrachalam. Afternoon journey by road to Dwaraka Tirumala (via) Ashwaraopeta on the way visit Maddi Sri Anjaneya Swamy Temple. Reach Dwaraka Tirumala, darshan of Lord Sree Venkateswara Swamy then journey to Rajahmundry. Reach Rajahmundry and drop at Railway Station.





Latest Tour Packages by
Punnami Tours & Travels