Aurora And Snowcastle Tour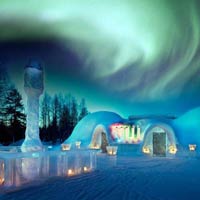 Aurora And Snowcastle Tour
Package Duration

4 Days / 3 Nights

Destination Covered

Kemi - Northern lights - Snowcastle - Reindeer camp
Package Includes :

Accommodation (Comfort) For 2 Nights, Includes Breakfast
Accommodation In The Snowcastle (Snow Room) For 1 Night; Breakfast & Morning Sauna Included
Transfer To/From Kemi Airport
Northern Lights Snowmobile Excursion (2 People Per Snowmobile)
Dogsled Tour (2 People Per Sled), Hot Beverage Included
Snowmobile Tour To A Reindeer Camp, Plus Reindeer Sled Ride (2 People Per Snowmobile)
Loan Of Additional Outerwear & Safety Gear, As Required
Taxes & Service Fees
24-Hour Emergency Phone Service




Day 1: Welcome To Kemi

Begin your winter adventure at Kemi Airport where our local staff awaits to greet you and transfer you from the airport to your hotel in Kemi. As dusk settles, the guide prepares you for an exciting guided snowmobile trip into the wild to explore the extraordinary beauty of Lapland's Northern Lights*. Two people share one snowmobile and takes turns in driving. Later, after enjoying a delicious hot beverage and light snack around a campfire, you are returned to the hotel.
* Please note that the Northern Lights are a natural phenomenon and sightings cannot be guaranteed.

Day 2: Husky Tour And The Snow castle

Meals: Breakfast




After enjoying a nice breakfast at the hotel, you will be picked up by car and transferred to a husky farm for a thrilling dog sled ride* through the frosty forest and over snowy meadows. The dogs howl and pull at their harnesses to get moving, and as soon as the anchor is lifted, the dogs fall silent and eagerly start pulling the sled through the woods and over the plains. Two people share one sled and takes turns in driving. Back at the farm, you will enjoy a hot beverage together with the musher before you will be transferred back to the hotel.
Later in the afternoon you will check in to the Snow Castle. The Snow Castle of Kemi is the source of great pride as well as a true showcase of architectonic snow-work of the local constructors. The whole Snow Hotel and the rooms inside are made of snow. Every winter the Snow Castle offers wonderful experiences for both children and adults alike. Great light-effects will add to the charm of the snow- and ice-sculpting as well as to the structures about the Snow Castle. The fresh, about -5 degrees Celsius breathing-air, will guarantee you sweet dreams inside a well-equipped sleeping bag on a good bed.
You will have a memorable sleeping-experience in the Snow Castle!
* Please note that the Husky Tour is not operating on Tuesdays and Thursdays

Day 3: Snow mobiles And Reindeers

Meals: Breakfast




Enjoy a nice breakfast at the Castle Lounge before you head back to the close by swimming hall, where the saunas are already heated and waiting for you. After you have warmed up a bit it is time to meet your guide for an exhilarating snowmobile safari through the frozen landscape. Two people share one snowmobile and takes turns in driving. Enjoy the unique scenery on your way to a Reindeer Camp where you are served a cup of coffee or hot lingonberry juice in a wooden hut around a cosy open fire. Then it's time to learn to drive yet another Arctic vehicle: a reindeer-pulled sledge. If you manage to pass the short driving test you will be the proud owner of a reindeer driver license. Eventually you will go back to Kemi by snowmobiles after an adventurous day.

Day 4: Departure

Meals: Breakfast




Enjoy a nice breakfast at your hotel. Transportation will then be provided to Kemi Airport in time for your departure flight.





Latest Tour Packages by
El Travel Elect Pvt. Ltd