Basheshwar Mahadev Temple Tour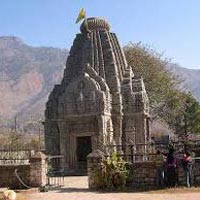 Basheshwar Mahadev Temple Tour
Package Duration

2 Days / 1 Nights

Destination Covered

Basheshwar Mahadev Temple
Description :

Basheshwar Mahadev Temple is situated in Bajaura, which is 15 km away from the Kullu City. This temple is well-known for its exquisite stone carvings, sculptures and flat shikharas. Dedicated to Lord Shiva, the temple dates back to the 9th century. Situated on the banks of River Beas, the temple houses a large 'Yoni Lingam' idol, representing Lord Shiva and his consort, Goddess Parvati.

Devotees can view floriated scrollwork on the temple's exterior and intricate stone carvings inside it. Small idols of Lord Vishnu, Laxmi and Ganesha are incorporated in shrines outside the temple. Three-sided shrines outside the temple contain idols of Goddess Durga, Lord Vishnu and Lord Ganesha.
Best Time to Visit Basheshwar Mahadev Temple

Bajaura , located in the Kullu district, sees good weather all year round. However, the best time to visit Bajaura and its temples is during October. Most visitors like to visit Himachal Pradesh and its various locations between June-September.

Winter (mid-September – February) are cold and chilly with temperatures dipping to sub zero levels. Summers (March -June) are pleasant and sunny and provide ideal conditions for long hours of sightseeing, trekking and adventure sports like rock climbing, river rafting and so forth.

Monsoon (July -mid-September) Rains in the hills can be daunting and lead to intermittent and heavy showers which cast a wet blanket on travel plans. This is also the time for landslides and gray weather which cause disruptions for commuters and tourists looking for outdoor fun. Bhuntar is a favorite travel destination during Navaratri/Dusshehra/Shiv Ratri with processions, festivities and religious activities and celebrations dominating the Kullu valley and providing tourists with more than their money's worth.







Latest Tour Packages by
Nirmal Yatra