Bhutan Wholesome Tsechu-Festival Tour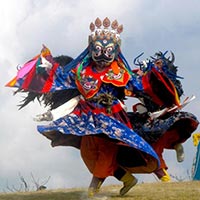 Bhutan Wholesome Tsechu-Festival Tour
Package Duration

12 Days / 11 Nights

Destination Covered

Paro - Thimphu - Punakha - Wangdue Phodrang - Trongsa - Bumthang - Zhemgang
Description :

Tsechu (Festival) is a religious festival that begins on the 10th day of the Bhutanese calendar. We normally infuse Festival tour itinerary with culture, adventure, Nature and spiritual/wellness tour.
Festivals in the land of the Thunder Dragon are rich and happy expression of its ancient Buddhist culture. These festivals are held in all districts in honour of Guru Rinpoche, the Sant who introduced Buddhism to Bhutan in the 8th century. Tshechus ( festivals) are held on auspicious days and months in Bhutanese calendar, and last up to four days in a series of highly stylized mask dance rituals are performed.
People's deep faith and devotion make these festivals a special occasion. At the same time it is also an opportunity to join hundreds, and even thousands, of Bhutanese in taking part in an important religious and social occasion that often exudes a carnival atmosphere. But for the visitors who prefer a more intimate experience, there are many tshechus in the smaller districts which are less crowded and where the local atmosphere is more relaxed and enjoyable. Small village festivals are best way to get acquainted with the spirit of Bhutan.

Package Includes :

Accommodation in 3 star Hotel (4 & 5 star require an additional premium).
All meals (breakfast, lunch & dinner), Tea (morning & evening) and minerals water.
Royal Government of Bhutan (RGoB) Royalties USD 65 per day.
Inland transfers: SUV Vehicles based on group strength.
A licensed Bhutanese tour guide for the extent of your stay
All hotel tax & service charges.
Bhutan visa processing.
All inland travel permits.

Package Excludes :

Both International & domestic Flight fares.
Visa fees USD 40.
Travel insurance coverage.
Drinks/Beverages.
Communication charges, laundry, tips, porters at hotels.
Other expenses of personal nature.
Tour Money transfer Fee.




Day 1: Paro

Arrive at Paro & afternoon sightseeing

Day 2: Thimphu

Transfer from Paro to Thimphu & afternoon sightseeing.

Day 3: Punakha

Morning Continue sightseeing & later afternoon transfer to Punakha.

Day 4: Wangdue

Morning sightseeing in Punakha & later afternoon drive to Phobjikha, en route visit to Wangdue.

Day 5: Trongsa

Morning sightseeing in Phobjikha & evening drive to Trongsa.

Day 6: Bumthang

Morning sightseeing in Trongsa and later in afternoon drive to Bumthang.

Day 7: Tshechu - Festival

Observe the first day of Tshechu program & sightseeing.

Day 8: Tshechu - Festival

Witness the second day of the Tshechu program & sightseeing

Day 9: Tshechu - Festival

Morning witness the 3rd day Tshechu program & sightseeing.

Day 10: Bumthang to Paro

Drive Bumthang to Paro

Day 11: Taktsang Monastery

Taktsang monastery excursion.

Day 12: Departure

International departure.

Hotel: 3 Star Hotel, Resort, Farm-House & Home-stay, Eco Camp & Tents on trekking.
Address : Paro - Thimphu Punakha - Phobjikha Trongsa - Zhemgang Phuentsholing, Bhutan
Hotel Rating :

Facilities : 24-Hour Front Desk, Banquet, Bar/Lounge, Business Facilities, Conference Facilities, Currency Exchange, Cyber Cafe, Laundry Services, Lobby, Restaurant, Security Guard, Wakeup Services

Description : We provide the accommodations in 3 star hotels, Resorts, Farm-Stays and Home- stays in traditional Bhutanese homes and settings. Visitors can be assured of their warmth and comfort of the hotels. Similarly, the ambience and hospitality offered by the hotels are incredible.

Additionally visitors embarking on long treks will be provided with tents and whatever other camping equipment is deemed necessary. Regardless of where they stay, visitors can be assured of their comfort and traditional Bhutanese hospitality.

Our guest willing to stay in luxurious 4 & 5-star hotels, we also offer them their option; however, they have to pay the additional premium.

To view the hotel for your choice, please log on website. www.hotel.bt .








Latest Tour Packages by
Bhutan Bjoka Tour & Travel