Dharamsala - Manali Over Thamsar Pass Trek Tour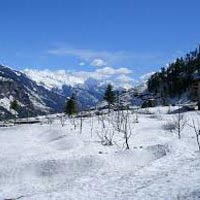 Dharamsala - Manali Over Thamsar Pass Trek Tour
Package Duration

12 Days / 11 Nights

Destination Covered

Palampur - Bir - Bara Bhangal - Manali
Day 1: Palampur to Bir by Car 2600 mtrs

Trek starts from Bir to Billing, 4hrs walk. The trek is of moderate ascent. It is known as one of the best placing for paragliding. It gives most scenic panorama of the Shivalik ranges.

Day 2: Billing to Raj Gunda

Trek goes to the north of billing along spur above the uhl river with easy walk. There are potato farms in this village.

Day 3: Raj gunda to Pani Hardu (3693mts)

this trek is moderate ascent.

Day 4: Pani Hardu to Marhu (3900mts)

over Thamsar pass (4665mts), 10-12 hrs. This trek is weary and it involves climbing. A beautiful small glacial lake can be seen on this trek. The pass is surrounded by snow and pass also shares two different valley (Kangra & Ravi valley). From here trail descends to the vast of snow towards north. The trekkers and gaddis camp at this place and make an early starts to cross Thamsar pass.

Day 5: Mahru to Bara Bhangal (2540mts)

It is downhill trek to Bara Bhangal which is situated above the attraction for trekkers, mountaineers, nature lovers and anthropologist who thrive to feel and experience the lives of local tribes who live there in complete isolation untouched from the outer world in their own traditional ways.

Day 6: Rest day.

Rest day.

Day 7: Bara Bhangal to Sukha Parav (2990mts)

This trek passes through forests. Streams and meadering rills involving many ups and down. This is a sceneic feast with panorama of peaks all around.

Day 8: Sukha pass to Lama Rarav (3150mts)

This is an easy gradual trek with moderate ascents.

Day 9: Lama pass to Gwari(3780mts)

The trek which rises steeply arduous climb up to the camping ground. Gwari is situated at the fool hill of Kalihin pass when the Kalihin river originates and joins the Ravi near Bara Bhangal.

Day 10: Gwari to Sanghor (3600mts)

This is very tiring trek. The climb becomes stiff before the pass but then rewarded adequately for ones efforts by fascinating view of the mountains of Greater Himalayas as seen from the pass. One needs balance and self control while descending

Day 11: Sanghor to Sangchur (288mts)

This trek passes through many ridges and crosses through couple of streams on its way to Sangchur.

Day 12: Sangchur to Manali (2050mts)

This is comparatively easy trail can be covered n 2-3 hrs. The trek descends through many villages of Kullu Vally.

Package Terms & Conditions :

RESERVATION, CANCELLATION AND OTHER POLICIES 

 

RESERVATION, DEPOSIT: 

A deposit of 50% of the total price is due with your reservation. Final payments are due before the departure and for a few special trips, 30 days before your trip starts.

 

CANCELLATIONS:

If you need to cancel a reservation, please do so in writing (best by e-mail). If we receive your cancellation more than 90 days before the starting date of the trip, we refund 100% of your deposit. Between 90 and 30 days your deposit becomes non-refundable. At less than 30 days notice (after payment is received in full), no refunds can be given. Some trips attract a minimum processing charge. Please check. The tour price is quoted as a package. No partial refunds or credit will be given for services not used. We recommend that you obtain travel insurance upon booking.  

 

TOUR LEADERS:

Our Tour Leaders take their responsibilities seriously and if a Tour Leader believes in his/her judgment that you should not participate in the trip, before your departure, even if you pass your medical, he/she may exclude you from the trip. In this circumstance you will be offered the option of taking another trip considered suitable for you or a full refund. If during a trip the Tour Leader considers you should not participate further he/she may direct you not to continue and you must follow the Tour Leader's instructions. In this case you will not be entitled to any refund. Travel insurance may compensate you depending on the circumstances. 

HEALTH AND FITNESS REQUIREMENTS:

Participants must be in good health and in a good physical condition. It is vital that participants with medical problems make them known to us well before departure. If you suffer from severe muscular, chest, heart or bronchial disorders, or if you are a severe asthmatic, or have high blood pressure, you are strongly advised against participating. Our trips generally take place in remote areas where there is little or no access to normal medical services or hospital facilities for serious problems. Where necessary, evacuation can be prolonged but it is difficult and expensive. Medical and evacuation expenses will be the responsibility of the participant. 

ROUTE CHANGES/POSTONEMENT OR DELAY:

may for any reason change the date of departure or conclusion of the tour, or it is possible that a route change, postponement or delay (either in relation to departure or to the duration of the expedition) may become necessary due to inclement weather, snow and ice conditions, political restrictions or any other cause. In the event of a change, postponement or delay, participants have no right to refund of the tour price (in whole or in part) or other compensation for any injury, loss or damage. PACKAGE PRICES: Package prices are based on ground costs, airfares and exchange rates.

EXCLUSION FROM TOUR PRICE:

The following items are excluded from the tour price: *visa, passport and vaccination charges; *departure, airport and airline taxes; *extra meals not included in the itinerary; *laundry, postage, personal clothing, medical expenses, personal travel insurance and items of a personal nature; *emergency evacuation charges; and *tips and excess baggage charges. Refer to our trip notes for full details.





Latest Tour Packages by
Hezi Adventures Tour And Travels