Ecological Jungle Trips - Black Cayman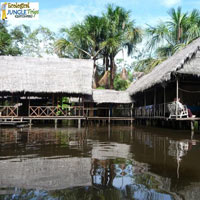 Ecological Jungle Trips - Black Cayman
Package Duration

5 Days / 4 Nights

Destination Covered

Iquitos - Nauta - Pacaya Samiria National Reserve
Package Includes :

Airport Transfers IN / OUT.
04 Noches accommodation at the Dolphin Lodge.
Tour program described in.
Personalized.
Visit to small local communities to see the different style of life they lead the people of the jungle.
Purified water throughout the day.
They can charge the batteries of cameras in our generator. Ask the administrator.
Enjoy breakfast, lunch and dinner made based on delicious Peruvian dishes, prepared by staff of the Amazon Dolphin Lodge. If there are vegetarians in the group, please let us know in advance.
Night and day excursions to look for animals.
Expert bilingual naturalist guides and small groups.

Package Excludes :

Air tickets and airport taxes (although tickets are not included in our prices, we can help organize this trip itinerary planning and buying tickets more appropriate).
Tips for guides and staff members.
Travel insurance or health insurance.
Extra expenses in the city of Iquitos.
Cigarettes, soda, CERVESA, Laundry.
Phone Call.




Day 1: Iquitos - Nauta - Ecological Jungle Trips

7:00 a.m.. Pick up from hotel for transfer to the city of Nauta AUTO via private road, in the way we will observe the small villages of farmers settled on the sides of the road. The trip lasts for 1.45 hrs. Approximately. After arrival in the city of Nauta.

Take the boat to take us to the Amazon Dolphin Lodge, which is 2 hours and 30 minutes travel by boat typical for river Marañon, Amazonas and Ucayali. To then finish in the Yarapa River where the hostel. Allocation of private rooms and program information to follow.

Walk deep into primary forest, knowing part of the Flora of the area, about 2 hours. Return to the Lodge.

Lunch.

Visit to an Amazon village to see their daily activities.

Continue browsing the Ucayali River and Yarapa to observe and take some photo to gray and pink dolphins in their natural habitat.

Dinner. A night time indicated by the guide performed the canoe trip in order to see different nocturnal species.

Night at the Lodge.

Day 2: Ecological Jungle Trips (Lodge y excursions)

Early morning a jungle hike, to to watch different species in their own habitat.

Breakfast; excursions by motor boat by the YARAPA RIVER for Piranha fishing, watching birds and other species.

Lunch.

Jungle hike with talks about medicinal plants and learn how to survive in the jungle, using the elements of the area.

Dinner; the guide will take you to a nocturnal hike to know some kind of insects, frogs and other nocturnal species.

Night in the Lodge.

Day 3: Ecological Jungle Trips, Excrusiones en el rio Yarapa

Very early in the morning canoe ride to watch different/species of birds in their own habitat.

Breakfast, fishing for piranhas and other species like the Cat fish, tucunare, Bujurquis and Acarahuasu in a lake near the Lodge.

Lunch

Hungle hike, to monkeys and squirrels in their own habitat and watching water plants known as Victoria AMAZONICA (Victoria Regia).

A trip with canoe through the native villages that lead into the heart of primitive jungle in order to explore and study biological diversity of Amazonia.

Back to lodge.
Supper.
Discussion on Amazon experience and the legends.

Day 4: Ecological Jungle Trips - (Experiencia de camping en la reserva nacional pacaya samiria)

Breakfast

At indicated time, there is a trip to the campsite where you can watch a great variety of fauna and flora and the famous sloths in their own habitat.

Dinner at the campsite. Later, you can watch and learn insects, palm trees, the famous rubber tree, etc. on the campsite.

Staying on the campsite at night and the night trip in order to search for different kinds of fauna and flora species, like caymans, frogs, night monkeys, night birds and specific for Amazon fish.

Day 5: Ecological Jungle Trips - Nauta - Iquitos

Breakfast and going back to Lodge.

Dinner.

Going back to Nauta at the indicated time, and later, the trip do Iquitos by private cars.

The end of the program in office in Iquitos.

Package Terms & Conditions :

Wear lightweight long sleeves, flared trousers, windproof jacket, hat, sunglasses, water bottle, hiking shoes, flashlight, insect repellent, sunscreen and stay in the city wear clothing according to your taste. In case of rain, the operator will provide rubber boots and plastic ponchos at local cost. Tell your travel agent any restrictions on food and / or any condition on their health, to prevent and avoid complications in the jungle excursions. VACCINES, excursions are developed through walks through the jungle for non-endemic areas free of epidemics such as malaria, dengue and yellow fever. At the request of the passenger can be vaccinated 10 days before your trip to the jungle at the National Institute of Health. Luggage in custody, leaving them in our office for the days that are in the jungle, just as is recommended not to carry more than S /. 80.00 soles for consumer spending in bar and buy handicrafts. If you have valuables to staff declare. FREE OF CHARGE. The company is not responsible for lost items and accessories under its responsibility, it is recommended to carry a personal bag (kangaroo bag) all these personal items as well as documents and money. The Lodge provides the generator to supply a certain time to charge the batteries of electronic equipment such as cameras, phones, cameras, etc.
Rainy Season:
November to July each passenger must bring rain protection as can be, Ponchos, Jackets for rain, etc.
Summer season (no rain):
July to November (Beaches in the Amazon, wearing swimwear, fishing season).
RAPD EXCURSIONS:
Obey and respect the guide's instructions and should be kept attached to the group, without delays or take alternate routes causing disorder, this can lead to incidents that affect the development of the excursions. Likewise, the order of activities may vary depending on weather conditions. IQUITOS average temperature 30 ° - 35 °.





Latest Tour Packages by
Ecological Jungle Trips & Amazon Lodge