Garh Kundar With MP Tour Package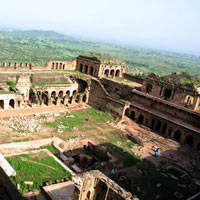 Garh Kundar With MP Tour Package
Package Duration

4 Days / 3 Nights

Destination Covered

Jhansi - Orchha - Garh Kundar - Khajuraho
Description :

Khangar's History
Origin Of Name
The Name 'kundar' Is Derived From 'kundarka' (Kund + Arka)'kund' Means 'pond' And Arka'means 'sun'. There Was A Pond In The Village, Built By The Sun-Worshipping Kshatriyas. It Is Said That The People Used To Get Rid Of Their Skin Diseases After Bathing In The Pond Or The 'arka-Kund'. The Remnants Of The Pond Can Still Be Seen Near The Temple Of 'gajanan Maa'

Garh Kundar Fort
The Garh Kundar Fort Is Located On A High Hill, Surrounded By Picturesque Hills And Forests. Besides The Main Fort The Remains Of Various Ancient Structures Can Be Seen Here. These Isolated Remains Seem To Quietly Narrate The Tale Of Their Splendid Past. There Is An Ancient Decaying Temple Of Gajanan Maa (An Epithet Of Goddess Durga, Considered To Be 'kula Devi' By Khangars), Built By Maharaja Khub Singh Khangar. There Is Also A Temple Of 'giddha Vahini' Devi Located Here.

The Fort Has A Complex Built Around A Large And Spacious Courtyard. A Few Rock And Pillar Inscriptions Have Been Found In The Fort. Among The Rough And Overgrown Stones, Boulders And Fallen Masonry Have Been Found The Beautiful Pillars Of Sun And Moon. The Granite Flooring Of The Fort Is Said To Have Been Renovated By The Bundela Kings During Mughal Period.


The Courtyard Inside The Garh Kundar Fort
History
Kundar Came Into Prominence After A Chief Of Khangar Kshatriya Clan Khet Singh Decided To Build His Capital Here, In 1180S Ad. He Captured The Fortress Of Jinagarh From Chandelas, Which Was Located Here, And Established His Own State. After His Death His Grandson Maharaja Khet Singh Khangar Built A Splendid Fort In Place Of Jinagarh Fortress And Named It 'garh Kundar'.

Garh Kundar Remained As The Capital Of Khangar Kings Till Its Capture By Mohammad Tughlaq's Army In 1347 A.D. Later It Was Handed Over To Bundelas, Who Were Feudatories Of Mughals.

Package Includes :




Day 1: Jhansi - Orchha

Arrival From Jhansi, And Go To Orchha Take Breakfast Then Sight Seen In Orchha With Local Guide, In Night Orchha Ramraja Aarti, Over night In Orchha.

Day 2: Orchha - Garh kundar

Morning Breakfast And Go To Garh Kundar Sight Seen Garh Kundar Fort And Back To Orchha Night Stay.

Day 3: Orchha - khajuraho

In Morning Time Going Orchha To Khajuraho And Taking Breakfast In The Way Tourist Restaurant And Arriving Khajuraho Go To Hotel And After Lunch Saw The Khajuraho Trmples With Local Then Overnight In Khajuraho.

Day 4: Khajuraho - Jhansi

After Taking Breakfast We Will Go To Jhansi Railway Station To Say Good Bye.





Latest Tour Packages by
Shivam Tour & Travels