Indian Food Tour In Delhi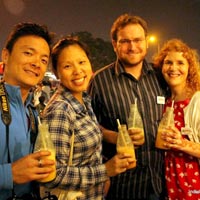 Indian Food Tour In Delhi
Destination Covered

Old Delhi - New Delhi - Connaught place - Spice market
Description :

We offer personalized culinary tours with sightseeing and Indian cooking classes for tourists who want to explore authentic Indian cuisine and charms of new and old India.

We listen to what guests really want and design our tours according to their needs. Our focus is on promotion of real Indian cuisine and culture as experienced by residents of New Delhi. The tours showcase best of Indian sights and food served by reputed food vendors who have been in business for 3 or more generations at the same spot. We don't patronize any fancy restaurant or 5-star hotel which serve only expensive and pale imitations. With us, you'll get the real India experience.

We've traveled around the world, tasted the so-called Indian food served in expensive restaurants every where and almost always found it to be below par. We intend to change it by promoting authentic Indian flavours. Although, duration and composition of food tours vary with every guest, an average food tour with us lasts for 7 hours and covers 20-25 different food items from 8-12 different food vendors located all over Delhi. Unlike rest of food tour operators, we cover more than one location and food types for every single tour. We also include sightseeing in ChawadiBazar, Chandani Chowk, Connaught Place, Spice Market, South Delhi and many other places in each tour. In addition to unlimited food and drinks, we offer pick up and drop facilities from hotel in air-conditioned vehicles, bottled water, wipes, sanitizer and more.

Everything is included in tour price at no extra cost. Food safety and hygiene plays a very important part in everything we do and all of food vendors included in our tours have impeccable reputations for good food and hygiene

Package Includes :

All food and drinks
Transport with pickup and drop from central Delhi

Package Excludes :




Day 1: Food Walk in Delhi

Meals: Breakfast and lunch or Lunch and Breakfast




Includes snacks and at least one meal depending upon start and end time.

Package Terms & Conditions :

DISCLAIMER:

No contract between the company and the guest will be applicable till the deposit has been paid and following terms and conditions accepted.

Clients are accepted on the understanding that they appreciate the risks in travel which may include injury, sickness, theft or death and that the clients undertake the tours at their own risk. Travel insurance is highly recommended for each tour.

We try to keep these tours as safe as possible for everyone, but we can't be held responsible if someone falls sick directly or indirectly due to any food or drink consumed during the tour.

Please let us know of any allergies and intolerances well in advance and we will try to do our best to make it work for you.

Information presented on our website and emails are true to best of our knowledge. But some points of the tour like activities, duration, places may change without further notice due to reasons beyond our control. We inform the guests of any such changes as soon as possible.

A surcharge of 3% is applicable on credit card payments.

If the guests have any complaint or want to change anything, they must tell the group leader first as soon as possible.

We make a point to listen to our guests but the decisions mad by tour leaders will be final in all matters

A non-refundable deposit fee of 25 % of total cost of tour is required when confirming a booking. It will be refunded in case of over booking or cancellation of tour. Rest of the amount has to be paid atleast 20 days before the last booking date. Should the client fail to make the payment, their slot may be allotted to the next guest. Late applicants can consider joining the next group.

Tour costs are calculated according to prevailing prices at the time of designing the itinerary. Company will not be held responsible for any changes beyond it's control

In case of underbooking, some aspects of the tour maybe changed.





Latest Tour Packages by
India Food Tour
New Delhi - Jaipur - Udaipur