Jim Corbett Park Wild Life Tour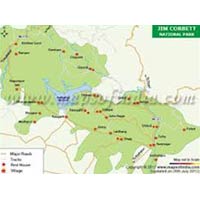 Jim Corbett Park Wild Life Tour
Package Duration

5 Days / 4 Nights

Destination Covered

Delhi - Corbett National Park - Pangot
Description :

Jim Corbett Park Wild Life Tour
Duration-: 04 Nights 05 Days
Destination-: Delhi-Corbett National Park-Pangot
Best Season-: 15th November to 15th June.
Location-:
Area-: 1,288.32 sq. km
Wildlife-: Tigers, Leopards, Elephants, Deer, Wild Boar, Himalayan Black Bear, Wild Dog, Jackal, Indian Gray Mongoose,Porcupine, Gharial, Crocodile, Ghoral, Goat Antelopes, Langur and Rhesus Monkeys.
Traveler-: Both domestic and international
About Jim Corbett National Park-:
Jim Corbett Park India had the proud distinction of being chosen as the venue for the inauguration of Project Tiger in India; earlier part of Uttar Pradesh now comes under Uttaranchal, the newly found state. Jim Corbett National Park India is home to a variety of flora and fauna, Corbett park is famous for its wild population of Tigers, Leopards and Elephants. Corbett Tiger Reserve has a great variety of fauna on account of habitat diversity. In the Jim Corbett National Park are found 110 tree species, 50 mammals' species, 580 bird species and 25 reptile species.
Climate-:
The weather is extreme in Jim Corbett Park. The summer months are April-Mid July. Monsoon moths are Mid-July-late September, while winter months are October till late march, The best time to visit corbett Park is between October till May end.
Biodiversity-:
FLORA-: The Main flora at Jim Corbett Park has Sal, khair, ber, kuthber, bel, chbilla, dhak, semal, khingan, kharpat, rohini, bakli, pula, bamboo tree as main flora.
FAUNA-: Mammals at Jim Corbett Park: The mainly found animals at Jim Corbett Park are Tiger, leopard, elephant, spotted deer, sambar, nilgai, hog deer, barking deer, sloth bear, wild boar, ghural, langur and rhesus monkeys the Birds found in Jim Corbett Park are Peacock, pheasant, pigeon, owl, hornbill, barbet, lark, myna, magpie, minivet, patridge, thrush, tit, nuthatch, wagtail, sunbird, bunting, oriole, kingfisher, drongo, dove, woodpecker, duck, teal, eagle, stork, cormorant, falcon, bulbul, flycatcher, red start and gull.
The Reptiles found in Jim Corbett Park are Indian marsh crocodile or mugger, gharial, king cobra, common krait, cobra, Russels viper, python and monitor lizard.




Package Terms & Conditions :

For Final Confirmation please deposit 50% advance payment in the favour of Vision Himalayas, please after depositing the amount forward the payment detail. Above Rates Are Subject To Availability And Can Be Change Without Any Prior Notice. For postpone/Prepone of tour packages are to be communicated in written and need to be inform us at least 7 days prior of tour date. INR 3000/- will be charged extra for prepone/postpone. A Valid Photo Identity Is Must To Be Carried. If the Client is willing to amend or cancel his/her booking because of whatsoever reasons including death, accident, illness, or any other personal reasons including non-payment of the balance payment, the Company is liable to recover Cancellation charges from the Client. In that case advance amount is non refundable, There will be no refund for NO SHOWS.





Latest Tour Packages by
Vision Himalayas