Kashmir Vaishno Devi Tour Package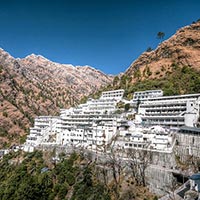 Kashmir Vaishno Devi Tour Package
Package Duration

7 Days / 6 Nights

Destination Covered

Jammu - Katra - Vaishno Devi - Srinagar - Sonamarg - Gulmarg - Pahalgam
Description :

Option 1 : 2* Hotels
Package Cost: Rs.19500 Per Head.
Group Package Cost: Rs.13500 Per Head.
Hotels Will Be As Follows Or Similer:
Katra - Hotel Basera / Hotel Dolphin
Srinagar - Hotel City Grace / Nishat Hill Resort
Srinagar - Deluxe Houseboat /
Pahalgam - Hotel Iceland / Royal Spring



kashmir tour package from Pune,kashmir tour package price,kashmir tour guide,kashmir tour season,kashmir tour plan,cheap kashmir tour packages,kashmir tour operators,kashmir tour packages,places go kashmir,kashmir tourism places,kashmir tourism packages,kashmir tourism photos,kashmir tourism season,kashmir tourism places to visit,map of kashmir tourism,kashmir tourism video,kashmir tour package for couple,kashmir honeymoon tour package,kashmir tour package price,best kashmir tour package,irctc kashmir tour package,delhi to kashmir tour package with price,kashmir tour package from surat,kashmir tour package from delhi,jktdc online hotel booking,jammu and kashmir tourism packages,cheapest tour packages for kashmir,holiday packages in jammu & kashmir,kashmir tourism, j&k tour packages,kashmir tour package price,jammu and kashmir tourism places,jammu and kashmir tourism packages, jammu and kashmir tourism package tour,jammu and kashmir tourism hotels,jammu and kashmir tourism map,jammu and kashmir tourism official website,places visit jammu and kashmir,hotels jammu,jammu and kashmir tourist places with pictures,jammu and kashmir food,jammu and kashmir tourist places list,jammu tourist places,jammu and kashmir tourism,jammu and kashmir tour packages,map of jammu and kashmir tourist places,jammu and kashmir history,hotel in jammu near railway station,hotel in jammu near raghunath temple,hotel in jammu katra,5 star hotel in jammu,hotel premier jammu,budget hotel in jammu near railway station,hotel in jammu gandhi nagar,cheap hotel in jammu katra,hotel katra continental jammu,hotels in jammu katra with rates,budget hotels in katra,hotel booking in katra-vaishno devi,hotels in katra near bus stand,katra hotels list,cheapest hotel in katra,hotel in srinagar near dal lake, hotel in srinagar 3 star,5 star hotel in srinagar,budget hotel in srinagar,hotel in srinagar near lal chowk,taj hotel in srinagar,hotel in srinagar at dal lake,4 star hotel in srinagar,low budget hotel in srinagar,budget hotels in kashmir with tariff,kashmir hotel rates,kashmir tourism,hotels in kashmir,hotel in kashmir 5 star,hotel in kashmir 3-star,taj hotel in kashmir,hotels in srinagar with prices,budget hotel in srinagar near dal lake,cheapest hotels in srinagar,low budget hotel in srinagar,srinagar budget hotels list,hotel taimoor srinagar,srinagar cheap hotels rates,visit to srinagar,5 star houseboats in srinagar,list of houseboats in srinagar dal lake,budget houseboats in srinagar,houseboats in srinagar dal lake,houseboat tariff srinagar,online booking of houseboats in srinagar,houseboats in srinagar nagin lake,houseboats in srinagar rates,kashmir honeymoon package price,kashmir honeymoon package from delhi, kashmir honeymoon package make my trip,kashmir honeymoon package from mumbai,kashmir tour packages,kashmir honeymoon tour,kashmir honeymoon package from bangalore,honeymoon packages,best package for kashmir,cheap kashmir packages,best of kashmir tour package,kashmir houseboat,kashmir tour package,kashmir holiday package from delhi,trips kashmir,kashmir honeymoon package,kashmir hotels photos,kashmir hotels 5 star,kashmir hotels rates,kashmir hotels list,luxury hotels in kashmir,kashmir hotels tariff,kashmir hotels booking,family holiday packages,domestic tour packages,family tour packages to europe,kerala family tour packages,honeymoon tour packages,individual tour packages,,kerala tour packages for family,kashmir hotels reviews,yatra kashmir tour packages,kesari tour packages kashmir,sotc tour packages kashmir,budget tour packages for kashmir,cheapest tour packages for kashmir,ltc tour packages to kashmir,tour packages to kashmir from kerala, tour packages kashmir with price,kashmir hotel booking online,travel kashmir tour,best kashmir packages,kashmir hotel package,kashmir heritage tour,kashmir honeymoon tour,kashmir holidays package,jktdc online hotel booking,budget tour packages for kashmir,cheapest tour packages for kashmir,ltc tour packages to kashmir,tour packages to kashmir from kerala,tour packages kashmir with price,kashmir honeymoon tour packages,cheap kashmir tour packages,yatra kashmir tour packages,jammu hotel booking price,budget hotels jammu,medium hotels jammu,jktdc online hotel booking,online hotel booking in jammu,best hotel in jammu,jammu hotel rates,jammu hotels list,room availability katra,luxury hotels katra,hotel samrat katra,budget hotels in katra,stay katra,accommodation in katra,white hotel katra booking,katra hotels booking online,4 star hotel in pahalgam,pahalgam hotels list,hotel brown palace pahalgam booking,hotel hill view pahalgam,5 star hotel in pahalgam, pahalgam heritage hotel,hotel central pahalgam,hotel grand view pahalgam,jammu and kashmir travel agents,jammu and kashmir travel package,jammu and kashmir travel brochure,jammu and kashmir travel information,also jammu and Kashmir,more jammu and kashmir trips,jammu and kashmir tourism,photos jammu and kashmir,vaishnodevi temple ahmedabad,vaishno devi temple oakville,vaishno devi temple pune,vaishno devi temple reasi,vaishno devi temple timings,vaishno devi temple images,vaishno devi temple bhavan reasi,amarnath temple,vaishno devi tour package,vaishnodevi shrine board,vaishno devi yatra helicopter online booking,helicopter booking for mata vaishno devi,mata vaishno devi helicopter,vaishno devi helicopter service,vaishno devi darshan online booking,mata vaishno devi darshan by helicopter,vaishno devi yatra parchi online,helicopter booking for vaishno devi,reach kashmir pune,pune to kashmir by road,pune to kashmir flights,pune to kashmir distance,pune to kashmir tour package, pune to jammu train fare,train from pune to jammu tawi,zelam express pune to jammu,pune jammu tawi express,jhelam exp,pune junction to jammu tawi,pune to jammu flight,pune to jammu train map,pune to srinagar cheapest flight,pune to srinagar train,pune to srinagar flight rate

Hadapsar,Baner,Pimple Saudagar,Hinjewadi,Kharadi, Wagholi,Viman Nagar,Kothrud,Aundh,Sinhagad Road,Kondhwa,Chinchwad,Pimple Gurav, dhan,Wadgaon Sheri,Balewadi,Talegaon, Vishrant Wadi,Pimpri ChinchwadDhanori,Kalyani Nagar,Ravet,Undri,Pimple Nilakh,Ambegaon Budruk,Rahatani,Pashan,Warje, Katraj,Karvenagar,Chakan, Wanowarie,Dhayari,Ambegaon, Bibwewadi,Koregaon Park,Magarpatta,Pashan Sus Road,Thergaon, NIBM,Pimpri,Sangvi,Akurdi, Narhe,Kalewadi,Dhankawadi, Nagar Road,Chikhali,Mundhwa,Moshi, Sus,,NIBM Road,Nigdi,Punawale,Tingre Nagar, Dange Chowk,Lohegaon,Manjri,Dighi, Bhosari,Erandwane,Keshav Nagar,Magarpatta Road,Fursungi,Yerwada,Aundh Annexe,Chandan Nagar,Paud Road,NIBM AnnexeBT Kawade Road, Charholi Budruk,Baner-Pashan Link Road,Baner Bypass Highway,Fatima Nagar,Shivane,Dapodi,Kondhwa Budruk,Vadgaon Budruk,Kondhwa Khurd,Sasane Nagar,Pirangut,Tathawade, Katraj Kondhwa Road,Balaji Nagar, Pisoli,Aundh Road,Kasarwadi,Spine Road,Shastri Nagar,Camp,Pradhikaran, Senapati Bapat Road,Model colony,Wadgaon Sheri,Shivajinagar,Shirwal, Anand Nagar,Bhusari Colony,Bhugaon,Sanghavi, Kharadi Bypass Road,Dehu Road,Mumbai-Pune Expressway,Lulla Nagar,Kasba peth,Satara Road,Handewadi,Uruli Kanchan,Sadashiv peth,Mundhwa Road,Sopan Baug,Market yard,Somwar Peth,Pune-Nashik Highway, Sukh Sagar Nagar,Talawade,Prabhat Road,Alandi Road,Jejuri,Kiwale,Chandkhed, Baner Pashan Link Road,Pune Sholapur Road,Rajgurunagar,Sangamvadi, Shirgaon,Karve Road,Bopodi,Alandi, Gokhale Nagar,Narayan peth,Kamshet,Paud,Purandar, Saswad,Rasta Peth,Ghorpadi,Loni Kalbhor,Salisbury Park,Shukrawar Peth,Khed Shivapur,Mahalunge,Swargate, Ranjangaon,Ganesh Peth,Shaniwar Peth, Nana peth,Khadki,Ganesh Nagar,Sahakar Nagar,Wadebolai,Moshi Pradhikaran,Mohammed Wadi,Deccan,Sainath Nagar,Boat Club Road,Bhavani peth,Dhole Patil Road,Salunke Vihar,Shikrapur,Kanhe, Bund Garden Road,Padmavati,Deccan Gymkhana,Handewadi Road,Saswad Road,Kothrud Road,Old Mumbai Pune Highway,Law College Road,Bhekrai Nagar,Bhoslenagar Ashok Nagar, Hingne Khurd,Kirkatwadi,Indira Nagar,Mukund Nagar,Talegaon Dhamdhere,Mamurdi,Yashvant Nagar,Bhukum,Baramati, Gultekdi,Panshet,Marunji, Yavat,Guruwar Peth,Lavasa,Bavdhan Khurd,NDA Road, Dattavadi,Nanded,G Road,Chandani Chowk,Tilak Road,Vadgaon Maval,DP Road,Parvati Gaon,Pune Cantonment,Daund,Uday Baug,University Road,Pune Railway Station,Dehu,Raviwar Peth,Mulshi,Veerabhadra Nagar, Kondhawe Dhawade,Uttam Nagar,Budhwar Peth,Parvati Darshan,Wanwadi,Sinhagad, Wadegaon,Kolhewadi,Shankar shet road,Wakadewadi,Koregaon, Sanaswadi,Kondhapuri,Parvati, Bhagyashree Nagar,Panchgani, Nilakh,Sangvi Road,Talegaon MIDC Road,Vidyanagar,Bhor, Khadakwasla,Rambaug Colony,Shirur,Lonikand,Vadgaon Sheri Road,Manchar,Shreehans Nagar,Narayangaon,Walvekar Nagar,Jambhul,Masulkar colony,Mahrashi Nagar,Nande,Khed, Vanaz,Range Hill Estate,Ideal Colony,Velhe,Mangalwar Peth,Mandai,J M Road,Kondhwa-Pisoli Road,Wadaki,Guru Nanak Nagar,Bhosale Nagar Hadapsar,Ganeshkhind,Ganga Dham,Fergusson College Road,Junnar,Sopan Bag Road,Gokhale Road,Empress Gardens,Sambhaji Nagar,Amboli,Uruli Devachi, Indapur,Kavade Mala,Bajirao road,Ashok Nagar,MIT Collage Road,Shewalwadi,Lavale, Shetphal Haveli,Landewadi,Sadhu Vaswani Chowk,Dhanore,Nasrapur,Peth Gaon,Maan,Ramtekdi,Nasrapur Velha Road,Pawna Nagar,Range Hill Road,Padvi, Taljai,Theur,Pingori,Induri, Vithalwadi,Nerhe,Kalas,Markal, Kanhur Mesai,Malegaon,Naylar Road,Pimpoli,Malkapur.Central Pune, Pune Cantonment, Vimannagar Airport, Vishrantwadi, Swargate, Katraj, Kalyani Nagar, Kharadi, Hadapsar, Magarpatta. PMC, Pune Court, Shivajinagar, Wakde Wadi, Vishrantwadi, Narvir Tanaji Wadi, Deccan Gymkhana, Kothrud, Warje. Khadki Cantonment, Khadki Bazaar, Aundh, Baner, Pashan, Balewadi, Mahalunge, Pune University, Bopodi. CME, Sangvi, Pimple Gurav, Pimple Nilakh, Wakad, Hinjewadi, Dapodi. Air Vents & Glass Factory, Valabhnagar, Nashik Phata, Bhosri, Moshi, Kasarwadi. Pimpri Industrial Area, Pimpri, Tata Motors, Pimpri, PCMC. Chinchwad, Kalewadi, Shahu Nagar, Chikhli, Chinchwad Industrial Area, Chinchwad Tata Motors Foundry,Nigdi, Nigdi Pradhikaran, Bajaj Auto, Force Motor, Ravet, Akurdi. Dehu, Dehu Road, Dehu Road Cantonment, MCA Pune Cricket Ground. Begdewadi. Ghorawadi. General Motors, Talegaon, Talegaon Dabhade, Vadgaon, Shalarwadi Caves, Ghorwadeshwar Siva Temple. Kanhe, Kanhe Solar Park. Pavananagar, Kamshet. Malavali, Karla Caves, Bhaja Caves, Lohagad Fort, Visapur Fort. Lonavala, Khandala, Bhushi Dam, Karla Caves, Bhaja Caves, Lohagad, Visapur, Bhor Ghat (Khandala Ghat).Wakad. Achalpur, Achhnera, Adalaj, Adilabad, Adityapur, Adoni, Adoor, Adyar, Adra, Afzalpur, Agartala, Agra, Ahmedabad, Ahmednagar, Aizawl, Ajmer, Akola, Akot, Alappuzha, Aligarh, Alipurduar, Allahabad, Alwar, Amalapuram, Amalner, Ambejogai, Ambikapur, Amravati, Amreli, Amritsar, Amroha, Anakapalle, Anand, Anantapur, Anantnag, Anjar, Anjangaon, Ankleshwar, Arakkonam, Araria, Arambagh, Arsikere, Arrah, Aruppukkottai, Arvi, Arwal, Asansol, Asarganj, Ashok Nagar, Athni, Aurangabad, Azamgarh, , , Name of City/Town, Badharghat, Bhiwandi, Bagaha, Bageshwar, Bahadurgarh, Baharampur, Bahraich, Balaghat, Balangir, Baleshwar, Bangalore, Bankura, Bapatla, Baramula, Barbil, Bargarh, Barh, Baripada, Barnala, Barpeta, Batala, Bathinda, Begusarai, Belgaum, Bellampalle, Bettiah, Bhabua, Bhadrachalam, Bhadrak, Bhagalpur, Bhainsa, Bharuch, Bhatapara, Bhavnagar, Bhawanipatna, Bheemunipatnam, Bhimavaram, Bhiwani, Bhongir, Bhopal, Bhubaneswar*, Bhuj, Bihar Sharif, Bilaspur, Bobbili, Bodhan, Bokaro Steel City, Bongaigaon City, Brahmapur, Brajrajnagar, Buxar, Byasanagar, Chaibasa, Chandigarh*, Charkhi Dadri, Chatra, Chalakudy, Changanassery, Chennai*, Cherthala, Chhapra, Chilakaluripet, Chirala, Chirkunda, Chirmiri, Hugli-Chinsurah, Chittur-Thathamangalam, Chittoor, Coimbatore, Kadapa, Cuttack, , , , , , Dalli-Rajhara, Medininagar (Daltonganj), Darbhanga, Darjiling, Davanagere, Deesa, Dehradun, Dehri-on-Sone, Delhi, Deoghar, Dhamtari, Dhanbad, Dharmavaram, Dhenkanal, Dhoraji, Dhubri, Dhule, Dhuri, Dibrugarh, Dimapur, Diphu, Kalyan-Dombivali, Dumka, Dumraon, Durg, Bhilai Nagar, , , Eluru, Erode, English Bazar, , Faridabad, Faridkot, Firozabad, Farooqnagar, Fatehabad, Fazilka, Forbesganj, Firozpur, Firozpur Cantt., Fatehpur Sikri, , Gadwal, Gaya, Giridih, Goalpara, Gobichettipalayam, Gobindgarh, Godhra, Gohana, Gokak, Gooty, Gopalganj, Gudivada, Gudur, Gulbarga, Gumia, Guntakal, Guntur, Gurdaspur, Gurgaon, Guruvayoor, Guwahati, , Hajipur, Haldwani-cum-Kathgodam, Hansi, Hapur, Hazaribag, Hindupur, Hisar, Hoshiarpur, Hubli-Dharwad, Hyderabad*, , Ichalkaranji, Imphal*, Indore, Itarsi, , Jabalpur, Jagdalpur, Jaggaiahpet, Jagraon, Jagtial, Jaipur*, Jajmau, Jalandhar Cantt., Jalandhar, Jalpaiguri, Jamalpur, Jammikunta, Jammalamadugu, Jammu, Jamnagar, Jamshedpur, Jamui, Jangaon, Jatani, Jehanabad, Jeypur, Jhansi, Jhargram, Jharsuguda, Jhumri Tilaiya, Jind, Jorhat, , Kadi, Kadiri, Kagaznagar, Kaithal, Kakinada, Kalpi, Kalyan, Kamareddy, Kancheepuram, Kandukur, Kanhangad, Kannur, Kanpur, Kapadvanj, Kapurthala, Karaikal, Karimganj, Karimnagar, karjat, Karnal, Karur, Karwar, Kasaragod, Kashipur, Kathua, Katihar, Kavali, Kayamkulam, Kendrapara, Kendujhar, Keshod, Khagaria, Khambhat, Khammam, Khanna, Kharagpur, Kharar, Kishanganj, Kochi, Kodungallur, Kohima*, Kolar, Kolkata, Kollam, Korba, Koratla, Kot Kapura, Kothagudem, Kottayam, Kovvur, Kozhikode, Kunnamkulam, Kurnool, Kyathampalle, , Lachhmangarh, Ladnu, Ladwa, Lahar, Laharpur, Lakheri, Lakhimpur, Lakhisarai, Lakshmeshwar, Lal Gopalganj Nindaura, Lalganj, Lalgudi, Lalitpur, Lalganj, Lalsot, Lanka, Lar, Lathi, Latur, Leh, Lilong, Limbdi, Lingsugur, Loha, Lohardaga, Lonar, Lonavla, Longowal, Loni, Losal, Lucknow*, Ludhiana, Lumding, Lunawada, Lundi, Lunglei, , Macherla, Machilipatnam, Madanapalle, Maddur, Madhepura, Madhubani, Madhugiri, Madhupur, Madikeri, Madurai, Magadi, Mahad, Mahbubnagar, Mahalingapura, Maharajganj, Maharajpur, Mahasamund, Mahe, Mahendragarh, Mahendragarh, Mahesana, Mahidpur, Mahnar Bazar, Mahuva, Maihar, Mainaguri, Makhdumpur, Makrana, Malda, Malaj Khand, Malappuram, Malavalli, Malegaon, Malerkotla, Malkangiri, Malkapur, Malout, Malpura, Malur, Manasa, Manavadar, Manawar, Mancherial, Mandalgarh, Mandamarri, Mandapeta, Mandawa, Mandi, Mandi Dabwali, Mandideep, Mandla, Mandsaur, Mandvi, Mandya, Maner, Mangaldoi, Mangalore, Mangalvedhe, Manglaur, Mangrol, Mangrol, Mangrulpir, Manihari, Manjlegaon, Mankachar, Manmad, Mansa, Mansa, Manuguru, Manvi, Manwath, Mapusa, Margao, Margherita, Marhaura, Mariani, Marigaon, Markapur, Marmagao, Masaurhi, Mathabhanga, Mattannur, Mauganj, Mavelikkara, Mavoor, Mayang Imphal, Medak, Medinipur, Meerut, Mehkar, Mehmedabad, Memari, Merta City, Mhaswad, Mhow Cantonment, Mhowgaon, Mihijam, Mira-Bhayandar, Mirganj, Miryalaguda, Modasa, Modinagar, Moga, Mohali, Mokameh, Mokokchung, Monoharpur, Moradabad, Morena, Morinda, Morshi, Morvi, Motihari, Motipur, Mount Abu, Mudalagi, Mudabidri, Muddebihal, Mudhol, Mukerian, Mukhed, Muktsar, Mul, Mulbagal, Multai, Mumbai, Mundi, Mundargi, Mungeli, Munger, Murliganj,

Package Includes :

Accommodation On Twin Sharing Basis.
Meals - Map Plan - Breakfast & Dinner Included.
Sightseeing By Indica.
Arrival And Departure Transfers.
Shikara Ride.
All Taxs, Parking & Driver Allowance




Day 1: Jammu to Katra to Vaishno Devi

After arrival in Jammu , pick up will be done from railway station/ airport. Drive to Katra, check in hotel. Later proceed further to visit the Holy temple of Vaishno Devi. This temple is situated on the top of the hill. To visit this temple one has to hire a pony or travel by foot. From Katra the Vaishno Devi pilgrimage is about 12 kms. After visiting the temple, return back to Katra on the same day. Overnight stay at hotel in Katra.

Day 2: Katra - Srinagar

Early morning leave for Srinagar. Enroute enjoy Kashmir Valley view. On the way you will stop Patnitop sightseeing. You will also be able to see the exceptionally beautiful Jawahar Lal Tunnel, the breath taking views of Ram Ban & Kud. Arrive Srinagar in the evening and check into hotel.Dinner and Overnight in hotel in Srinagar.

Day 3: Srinagar to Sonmarg (85 Kms - 2.5hrs)

We begin our day with a sumptous breakfast at the hotel. After breakfast we will drive to the majestic mountain resort of Sonmarg. The route towards Sonamarg takes us on a picturesque country side drive where we will come across rolling hills, green forests, clear water streams and blooming rice fields. We will zoom past the town of Kangan which handles all the local needs of this region. From Kangan, we will drive towards Mammar. We will once again alight from our vehicles at the tourist spot of Gagangir. The spot is built in the middle of the river Sindh and looks like an island with snow glaciers covering one or the other spot. In Sonamarg we will take a 3 hour walk or horseback trip on your own to the Thajiwas glacier. After our return we will visit the small town market for some snacks or just pay a visit observing the local people going with thier daily routine. We will drive back to Srinagar in the evening and transfer to the hotel for our overnight stay in Srinagar.

Day 4: Srinagar to Gulmarg (Day Trip): (56 kilometers / 2-3 hrs drive)

After breakfast in the morning, we will begin our country tour towards Gulmarg. The drive past colorful villages and rice fields, gives you an insight of the rich cultural past of Kashmir. We arrive at a small picturesue market town of Tangmarg and drive ahead on a scenic drive of 14 kilometers to Gulmarg. We arrive in Gulmarg early in the afternoon Later we will begin a short tour around the meadow familiarizing ourselves with the beauty. In Gulmarg you can board the Gondola cable car system on your own, and ascend towards the Afarwatt Mountain range. The 08 minutes of rope way will take you past colorful shepherd hutments to the lower ridge of the Afarwatt peak. From here you can click lots of photos of the nearby mountain ranges that stand tall like sentinels guarding the rich natural beauty of Kashmir valley. We descend back to Gulmarg base after an hour and drive towards Srinagar. We will stay at the hotel for overnight in Srinagar.

Day 5: In Srinagar: Local sightseeing - Half a day

Today we will do some half a day of local sightseeing that includes a visit to the famous Mughal gardens of Nishat and Shalimar. Built in between a period of 14 years the two gardens are a heritage left behind by the erstwhile Mughal's, whose taste for laying exquisite gardens was fascinating. With a backdrop of the sprawling Zabarwan mountains, the gardens boast of green turfs, blooming flowers and cascading water fountains. We will explore the gardens and later drive back to the hotel for check out. We arrive at houseboat and check in. You will have shikara ride in the lake. This boat ride glides you past some wonderful vegetable gardens and aquatic life. Dinner and Overnight in houseboats.

Day 6: Srinagar to Pahalgam: (97 kilometers / 3-4 hrs drive)

We will begin our trip towards Pahalgam and drive on the National Highway 1A. This road connects the Valley to the rest of the country. We drive past the saffron fields of Pampore, the Marvellous ruins of Awantipora and the village of Bijbehara which remains famous as the bread basket of Kashmir. You can even sample a few exotic breads sold by vendors near the road. We switch the the national highway at Khanabal and drive through the second largest city of Anantnag. From here the road turns scenic as we drive parallel on the Lidder river flowing from the opposite direction. In Pahalgam we check in at the hotel and later do some nature walks to unwind ourselves. Overnight in hotel in Pahalgam.

Day 7: Pahalgam to Jammu Railway station:( 250 Kms / 7-8 Hrs)

After breakfast, we will drive to Jammu for your return journey.





Latest Tour Packages by
Shimla Kashmir Tours & Travels Pvt Ltd