Kinnaur Kailash & Spiti Special Tour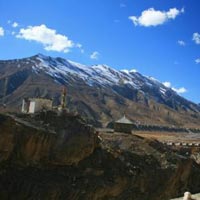 Kinnaur Kailash & Spiti Special Tour
Package Duration

9 Days / 8 Nights

Destination Covered

Shimla - Sarahan - Sangla - Chitkul Valley - Kalpa - Nako - Tabo-Kaza - Kunzum pass - Rohtang pass - Manali
Description :

Exploration of isolated Kinnaur - Spiti situated on Indo - Tibetan border, a spectacular road from Shimla 'an ancient summer capital of British Raj' leads in to the Gorgeous Sutlej valley to scenic Kinnaur dominated by mighty kinner kailash, While Spiti is surrounded by wide desert.Climate and culture changes so rapidely as beginning from Shimla it rains in summer, dominant religion is Hindu. In Kinnaur people has adopted both Hinduism & Buddhist culture and it is a semi desert area and rains lesser, where as in Spiti the dominant religion is Buddhism and the place is very dry. During the travel one can see the most exotic sight of Himalayas which will be an unforgettable experience. Highest point is Kunzum Pass (4700 mtrs). Shimla Kinnaur Lahaul Spiti via Kalpa Nako Tabo Kaza Kunzum la Pass to Manali : These destinations are just suggestions only to help you in planning your trip. You can discuss with your tour operator or travel agent to finalize the price and duration of your package. This trip is possible from June to October only. Exact dates of opening of this route mostly depends on road condition at Kunzum La pass. An amazing hill station, Kaza is a chief town in the majestic Spiti valley. Spiti means middle land - between India and Tibet. The Spiti valley receives very little rainfall is bound on both sides by Lahaul and Kullu valley. The locals pronounce Spiti as Piti.This special tour also covers Nako also where one can see the famous Nako Lake and 1000 year old Monastery at tabo.At Kaza, the tour includes a visit to the famous Ki Monastery and Kibber village at 14,000 ft height. Special Attraction : * Visit to Losar (4097m) - the last habitable village near Kaza with a population of just 250 people.

Lahaul Spiti Kinnaur tour package is one of the best packages for Himachal. Evergreen Himachal is also known for best and lowest cost kinnaur spiti tour package. The valley is still unexplored and are little known about the places around here. Kinnaur Lahaul Spiti tourism is growing popular now all over the world. Evergreen Himachal provide best managed with least cost packages that satisfies the visitors a lot. Our tour guides and taxi drivers are well trained and aware of the locality of the region. The geographical circumstances are not of much impact as we are well experienced to arrange all situations. Our Kinnaur tour packages or Kinnaur Spiti travel packages are primarily from Chandigarh and Delhi. We also provide Kinnaur tour package from Kolkata,Mumbai Ahmadabad and Chennai. The tour bookings are open for summer holidays for the month of April to July to explore the rarely flourished valley's of Kinnaur. Our Kinnaur Lahaul Spiti tour Packages is divided into following day wise schedule. So that you can enjoy the eternal beauty of Kinnaur Lahaul Spiti valley and its surrounding. These package tours are just suggestion only to help you in planning your trip. You can discuss with your tour operator or travel agent to finalize the price and duration of your package.

Package Includes :

Accommodation : Hotel/Lodge & Tents for Outdoor
Transport : By Taxi as per group size
Altitute / Terrain : 17200 Feet, Gradual & Alpine




Day 1: Chandigarh /Kalka - Shimla

Arrival in Shimla and get greeted by the tour representative on day 01 of the tribal tour for Kinnaur and Spiti Valley. Evening free for Mall Road ,Ridge Madian,Lakkar Bazar,proceed for a heritage walk to visit few architectural sites of the town built during the British Raj Check into the hotel. Overnight stay in the hotel.

Day 2: Shimla - Sarahan

Drive to mountain top on Sarhan (famous for its Bhimakali temple) on day 03 of tribal tour for Kinnaur and Spiti Valley Start After breakfast start for Sarahan. By road 176 K.M. (On the way Will Flower Hall, Highest Halipad of Shimla Dist. Kufri, Fagu, Matiana(Famous for Cherry Orchards), Narkanda (Famous for skiing & Apple Orchards) C, Nogly - Satluj River ,Rampur (The great Palace of Raja Padam Dev of Rampur Bushar). Night Stay at SARAHAN.(7,144.5 Ft.)

Day 3: Sarahan - Sangla

Drive to Sangla valley on day 03. Also called Baspa valley, Sangla Valley is also famous for its natural beauty and few old villages. Overnight stay at the guesthouse and same day Sangla Sight seeing Visit to Chitkul on day 05 of tribal tour for Kinnaur and Spiti Valley Chitkul is the highest and the last village in the region at the height of 9000 feet above mean sea level. visit to Kamru fort and Batseri village overnight stay at Sangla if any sight seeing left next day we show you and start for Kalpa.

Day 4: Sangla - Kalpa

Drive to Kalpa offering a panoramic view of Kinner Kalaish.

Day 5: Kalpa - Tabo

Visit Nako on day 05 and witness the first inhabited village in Spiti valley.

And start for Tabo
The tribal tour begins with a drive to the Tabo monastery. One of the oldest monastery of the western Himalayas, Tabo is famous for its huge size paintings, some of which are as old as the monastery is. Overnight stay in the hotel.

Day 6: Tabo - Kaza Main Town of Spiti

Inroute Dhankar Monestry and Spiti Valley.

Day 7: Kaza - Kibber

Kaza to Kibber Village and Kee Monestry Tour and in evening back to Kaza over night stay at Kaza Hotel Kibber Village - Overnight stay at the Kaza.

Day 8: Kaza - Manali

Start early morning from Kaza to Manali Inroute Kunzum pass,Rohtangpass and Manali.

Day 9: Manali to Kalka or Chandigarh Drop

Early Morning Drive to Chandigarh and drop Chandigarh Railway Station/ Airpot.
Happy Tour End !!





Latest Tour Packages by
Himachal Tour Makers