Knuckles Mountain Range Tour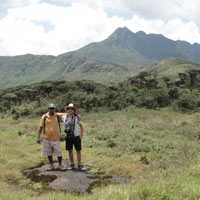 Knuckles Mountain Range Tour
Destination Covered

Kandy - Matale
Package Includes :

Pick nick lunch
Entrance ticket
Herbal chemical

Package Excludes :




Day 1: Sri Lanka Eco Trekking

Meals: Lunch




Knuckles Mountain Range - ( unesco world Heritage site. )
Marvelous view / Pigmy forest / Waterfalls

After breakfast ( 7.30 am ) proceed to knuckles mountain range, It is informed that while going to knuckles range. we have to pass through remote village. and it around 1800 m from the mean sea level. which is a amazing area comprise with pigmy forest fauna and flora. the science of several kinds endemic birds. monkey, porcupine, wild pole and civet cats etc. and also able to have glimpse of sambur deer, barking deer, and leopard. once in a blue moon and this will be a tour that will never forget one who attend same.
After visit returning to kandy

Total working around 14 km
morning leave about at 7.30 am.

Package Terms & Conditions :

Sri Lanka Government Regulations. It is highly prohibited to remove any part, parcel of any plant and all visitors are requested to bound and obey these rules and regulations. It is the utmost duty of every one to protect the environment of srilanka, it's plantations natural habitats, and the wild life and waterfalls for the conservation, development and protections.