Lamayuru Alchi Trek Tour (Ladakh-Moderate Trek)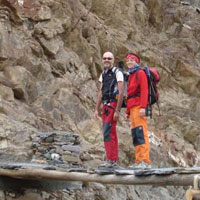 Lamayuru Alchi Trek Tour (Ladakh-Moderate Trek)
Package Duration

18 Days / 17 Nights

Destination Covered

New Delhi - Leh - Lamayuru - Wanla - Hinju - Marjek - Lanka - Sumdah Choon - Pulu - Alchi
Description :

Season: July to September.
Duration: 2-day drive, 8-day trek.
Grade: Moderate.

Highest Point: 4,320m approx.

This trek distills the very essence of Ladakh and in a short span of time, provides intensive experience of the land, its people and culture. Linking two of the oldest monasteries in Ladakh at its either end, the trail passes through dramatic desert mountain-scape with vivid verdant villages tucked away into the hillsides. Highlights include the gompas at Lamayuru, Wanla, the Sumdochoon valley, inhabited by descendants of Nepalese craftsmen brought by the king of Ladakh in the 18th century renowned for their metalwrok in copper, tin and silver, and Alchi and ancient wood carvings at Sumdah Chenmo, all made in the 11th century by Rigzing Zangpo.




Day 1: Delhi

Arrival Delhi.

Day 2: Delhi

Visit Delhi.

Day 3: Leh

Fly Delhi to Leh.

Day 4: Leh

Leh. Day at leisure.

Day 5: Leh

Day for City Tour.

Day 6: Leh

Drive Leh to Lamayuru (11,033 ft/3,364 m) - 5 to 6 hours.

Day 7: Lamayuru

Trek Lamayuru to Wanla (10,135 ft/3,090 m) - 3 to 4 hours.

Day 8: Wanla to Hinju

Wanla to Hinju (12,421 ft/3,787 m) - 5 to 6 hours.

Day 9: Hinju

Hinju. Rest day. Explore the village and its surroundings.

Day 10: Hinju to Marjek

Hinju to Marjek (11,152 ft/3,400 m) - 6 hours.

Day 11: Lanka

Marjek to Lanka (13,547 ft/4,130 m) - 6 hours.

Day 12: Lanka

Lanka to Sumdah Choon (12,579 ft/3,835 m) - 6 hours.

Day 13: Sumdah Choon

Sumdah Choon. Rest day.

Day 14: Sumdah Choon

Sumdah Choon to Pulu (14,170 ft/4,320 m) - 6 hours.

Day 15: Alchi

Pulu to Alchi - 2 hours.

Day 16: Leh

Drive Alchi to Leh - 3 hours.

Day 17: Delhi

Fly Leh to Delhi.

Day 18: Delhi

Departure Delhi.





Latest Tour Packages by
Ibex Outdoors