Manali - Leh Himalayan Safari Tour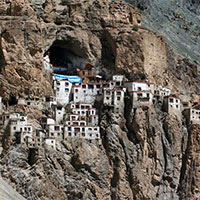 Manali - Leh Himalayan Safari Tour
Package Duration

6 Days / 5 Nights

Destination Covered

Manali - Rohtang Pass - Baralacha Pass - Sarchu - Leh
Description :

Leh Town and around:-
Leh town offers a number of sightseeing options for the visitors. A historic town that served as the royal capital of the Old Kingdom, it is dominated by the nine-storey palace built by King Singge Namgyal in the grand tradition of Tibetan architecture, it is said to have inspired the famous Potala in Lhasa which was built about half a century later.
Foreign Exchange:-
The State Bank of India and the J&K Bank have branches at various places in Ladakh, with main branches in Leh and Kargil, where foreign exchange facilities are also available in the main Market also with different tour operators as well as an extension counter at the Tourist Information Centre located in the Dak Bungalow Complex, Leh. Some hotels in Leh are also licensed to deal in foreign exchange, though these mainly service in-house clients. There is no foreign exchange facility outside these two towns.
Communication:-
Leh and Kargil towns have worldwide direct dial telephone facility and there are a number of public call offices/ telephone booth operating in Leh town for the convenience of the tourists.
The State Tourism Department has its own wireless radiophone network linking its offices at Leh, Kargil and Padum, with those at Srinagar, Jammu and Delhi. This facility is mainly used to monitor the movement and welfare of tourists in the State. It is especially useful in ensuring timely rescue arrangements for tourists falling ill or injured in accidents.
Tips/Insurance:-
Clients are advised to take the pre insurance against their travel for any unforeseen circumstances and flight cancellation. This is a remote area and evacuating the people from Ladakh to main land may take two to three days. You need to be prepared for flight cancellation in monsoon season but not very often
You're Driver / Hotel personal / Local Guides and Trekking tem expect a tip at the end of services and depends on your overall programme and duration. You may get the details from your representative and tour escort upon arrival in Ladakh.
Acclimatization and Altitude Sickness
Ladakh is a high altitude cold desert with a low level of atmospheric oxygen. It is, therefore, absolutely necessary that visitors reaching Leh from the plains of India by air, give themselves sufficient time for acclimatization before engaging in any physical activity. The rarefied atmosphere may cause high altitude ailments like Acute Mountain Sickness, necessitating instant evacuation of visitors who are unable to get acclimatized.
Anyone traveling to altitudes above 10,000 ft (2,700 m) is liable to suffer from acute mountain sickness (AMS) unless properly acclimatized. The most common symptoms of acute mountain sickness are headache, disturbed sleep and loss of appetite, nausea, coughing, irregular breathing, breathlessness, lassitude and lack of concentration. If you are reaching Leh by air, it is important to take complete rest for the first 24 hours after arrival. Any kind of physical exertion is to be avoided. Smoking and drinking should also be avoided till you are fully acclimatized. The symptoms of acute mountain sickness generally develop during the first 36 hours, and not immediately upon arrival. Your body should get used to the lower oxygen level of Ladakh after 2 or 3 days if you have taken complete rest for the first 24 hours and as much rest as possible during the next 12 hours.
High Altitude Pulmonary Oedema (HAPO) and High Altitude Cerebral Oedema (HACO) are very serious forms of acute mountain sickness. These are life-threatening ailments and warrant immediate medical attention.
As a preventive measure, Tab Dismox 250 mg should be taken at the rate of 1 tablet twice a day for 3 days, atleast 2 days before coming to Ladakh or any high altitude area.
Healthcare & Medical Assistance:-
The main centre for health care in Leh is the SNM Hospital, which is well equipped and staffed by specialists to handle all problems. Elsewhere in the region, there are sub-district hospitals at block headquarters and medical dispensaries in major villages, which are staffed by qualified doctors. In addition, services of the following private clinics and associated facilities are also available in Leh:-
Meditation Facilities
The Mahabodhi International Meditation (MIM) Centre situated near Choglamsar, Leh, offers regular courses in various forms of meditation under the supervision of trained teachers. The MIM Centre's facilities are quite good and the charges are nominal, sufficient to cover the cost of food. The Centre also runs a branch within Leh town at Changspa. Meditation facilities are also available in Hotel Agling Resort on commercial basis in a package covering accommodation and courses.
Lamas as Oracles:-
Lamas are believed to be the messengers between the physical and the spiritual world and often act as astrologers and oracles predicting the auspicious time for starting any major enterprise. However, the monk-oracles of Matho Gompa are the most popular ones. It is very interesting to witness the feats performed by these monk-oracles. Two monks are chosen to act as oracles in every three years by a traditional procedure and they have to undergo rigorous routine of prayer and fasting (and perhaps training) to purify themselves for the cause. When they finish, deity possess their body at the opportune time ans the feats, which they perform feats that can awe anyone including cutting themselves with knives without even wincing and sprinting along the gompa's (monastery's) topmost parapet as if they are made of rubber. Whenever possessed, they are believed to answer only the truth regarding individual and public welfare, though, the deity may also react with frenzied anger to those who are skeptical and ask questions only to test the deity.
Monasteries & Monuments:-
Sightseeing of the historic monuments and major Buddhist gompas (monasteries) are the main attractions of Ladakh. The Indus Valley, particularly from Upshi down to Khalatse, whichis the region's historic heartland, is dotted with all the major sites connected. The important sistes of Leh include: Stock Palace, Shey Palace- Monastery. Other famous monasteries include: Thiksey, Hemis, Chemday, Takthok, Spituk, Phyang, Likhir, Alchi, Rizong, Lamayuru.
Leh Palace:-
known as "Lechen Palkhar was build Dharmaraja Singey Namgyal in 1600 AD. It has 9 storeys and history says that its completion took three years. In the Leh valley, there is Samkar Monastery which was founded by Skyabrje Bakula Rinpoche. In the center of Leh City is the new monastery called "Chowkhang". The Ladakh Buddhist Association found it in 1957 AD. Inside there is a sacred image of the Buddha Shakya Muni that was brought from Tibet.
Population: Approx. 2.40 lakh in the 2 districts of Leh & Kargil.
Languages: Ladakhi including Balti / Purgi, Shina or Dardic, Urdu / Hindi.
Ethnic composition: Mongoloid/Tibetan, Dardic and assorted Indo-Aryan elements.
Altitude: Leh 3505 m, Kargil 2750 m
Leh Ladakh Temperature: Maximum Minimum
Summ 25 °C 8 °C
Winter (-) 5 °C (-) 20°C
Rain-fall : 15cm, 6" (annual average)

Package Includes :

Welcome drink on Arrival in Leh.
01 Nights at the Camps in Sarchu, 04 Nights stay Hotel in Leh.
Daily Breakfast and Dinner in hotel / camp.
Chevrolet Tavera / Tata Sumo / Toyota Qualis for the Entire Tour.
Fuel, Entry Fee, Toll Tax, Driver's Allowances.
Protected area permit and wild life fees.

Package Excludes :

Airfare / Train Fare.
Any Kind of Personal expenses like, Tips, Insurance, Laundry, Phone Calls etc.
The Services of Vehicle is not included on leisure days & after finishing the sightseeing tour as per the Itinerary.
Any Kind of Drinks (Alcoholic, Mineral, soft or hard drinks, starters).
Monastery entrance fees, camera fee if applicable and Guide services.
Any thing not specifically mentioned under the head "Cost Inclusion".




Day 1: Manali - Sarchu

Early morning drive to Serchu, driving across Rohtang Pass (13050 ft) and passing through Keylong, Jispa and Dracha and then cross the Baralacha Pass (16020 ft) to arrive at Sarchu in the evening. Overnight in fixed camp at Sarchu.

Day 2: Sarchu - Leh

After early breakfast leave for Leh en-route crossing Nakeela and Lachalung-la Pass (16,617 ft.). Break for lunch at Pang and then drive on towards Leh passing through Skyangchu Thang (a vast plateau stretching for 42 kms) and then crossing Taglang-La (17,585ft) and driving through the upper Indus Valley. Reach Leh by evening. Overnight in hotel.

Day 3: Leh

After breakfast visit Shey Palace, Thiksey Monastery & Stok Palace Museum. Post lunch at the hotel, visit Shanti Stupa, Sankar Gompa & Leh Palace and then explore the local markets. Overnight in hotel.

Day 4: Leh - Khardungla Pass - Leh

Post Breakfast we drive to Khardung la, the highest motor able road in the world at 18,390 ft. is around 39 Kms away from Leh. The views from the top of the pass are amazing. Return to the hotel for hot lunch. Later in the afternoon at leisure for last day shopping and overnight stay at the hotel.

Day 5: Leh - Pangong lake - Leh

Full day excursion to Pangong Lake (approx. 270 kms round trip, located on the Indo-China Border), enroute crossing the Chang-la pass (alt: 17370 ft.). After sightseeing around the lake, drive back to Leh, reaching in the late afternoon / evening. Overnight in hotel.

Day 6: Fly Out from leh

Early morning transfer & drop to airport.

Package Terms & Conditions :

This package is conducted during Mid June to October months only.
50 % advance to be deposited at the time of booking confirmation balance one week before tour Starts.
Check-In / Check-out time at all the properties would at 12:00 hrs (Noon).
All given rates are per person on twin sharing basis.
Extra person will be 50% and child between 6-12 yrs will be charged 40% of the package amount.
Child below 5 years child will be as complementary.





Latest Tour Packages by
Shree Tours-n-Travels