New Year Safari 2014 Jaisalmer Tour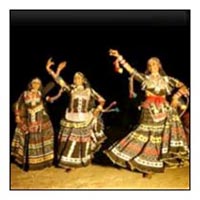 New Year Safari 2014 Jaisalmer Tour
Package Duration

3 Days / 2 Nights

Destination Covered

Jaisalmer
Description :

What better way to start the New Year than with a celebration under the stars? Come and join us for the renowned Adventure New Year Safari - there will be a starry party night with our special New Year Dinner, traditional folk music and dance and a few surprises on the evening of the 31st December. Wholesome food, mineral/filtered water and warm clean bedrolls are provided throughout the safari and the party will take place on the beautiful sand dunes 40 km outside of Jaisalmer in a guaranteed tourist-free area.

You can join the New Year Safari as it best fits in with your travels since the individual groups only meet up for the New Year Celebrations, so all you have to do is decide on the length of your tour: Overnight, 2 Days-1 Night, 3 Days-2 Nights - and anything beyond; just contact us for details and prices.




Day 1: (The Adventure begins)

You leave Jaisalmer from the office of the Hotel Laxmi Niwas ( In Side Fort ) and drive by jeep to the camp.

7.30 am:Get a first feel of the magic when you have the sunrise served with your breakfast.

8.30 am - 12 noon: Your adventurous camel trek will start into the remoteness of the desert, visiting three untouched traditional villages on the way.

12 noon - 3 pm : Lunch and rest in the shade of some trees near the oasis as the sun is fierce at this time of the day.

3 pm - 5 pm : You are setting out for your afternoon ride towards the sand dunes to experience the desert environment and watch native wild life.

5 pm : View the last sunset of the year from the dunes, after which the New Year's Party will begin.

Day 2: (Day at own pace)

8 am - 12 noon : After a leisurely breakfast your adventurous camel tour continues for you to enjoy the peace and quiet of the desert environment and watch the native wild life.

12 noon - 3 pm : Lunch followed by rest in the shade.

3 pm - 5 pm : Afternoon ride to the dunes with optional visit of a Dhani (small village).

5 pm : Arriving at the dunes for another beautiful sunset, delicious dinner and a peaceful night under the stars.

Day 3: (The Adventure concludes)

Enjoy another sunrise and breakfast on the dunes.
8 am - 12 noon : Camel ride further into the remote areas of the desert to experience the vegetation and wild life.

12 noon - 3 pm : Lunch and rest in the shade.

3 pm - 5pm : Camel riding and galloping through the country side on your way to the camp.

5 pm : Return journey by jeep to Jaisalmer.

6 pm : The New Year's Adventure 2013 ends – hope to see you all again at the end of the year!





Latest Tour Packages by
Hotel Laxmi Niwas & Laxmi Resort