Overland Adventure to Tibet Package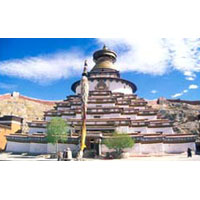 Overland Adventure to Tibet Package
Package Duration

8 Days / 7 Nights

Destination Covered

Tibet - Lhasa
Description :

Budget Trip to Tibet:
The first part of the tour offers fascinating views of the incredible formation of the highest plateau of the world with awesomely beautiful rocks, cascades and canyons slightly hidden in the thin flying mists amidst the mighty presence of MT. XISHAPANGMA (8212m).

Center Tibet:
The second part brings you so close to the Shangri-La of Tibet making you feel yourself as being part of a unique culture, a rich tapestry woven with legends, myths, rituals and festivals.

Everest Base Camp with Lhasa:
The last part takes you over the majestic Himalayas offering you the long cherished breathtaking view of the Himalayan ranges including MT. EVEREST (8848m) by an hour long trans-Himalayan flight on your way back from LHASA to KATHMANDU.

Package Includes :

Budget Trip to Tibet, Center Tibet, Everest Base Camp with Lhasa.