Puerto Princesa Subterranean River Tour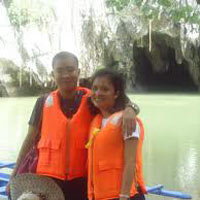 Puerto Princesa Subterranean River Tour
Package Duration

3 Days / 2 Nights

Destination Covered

Puerto Princesa
Description :

Reputed to be the world's longest navigable underground river and the most beautiful subterranean river, The Puerto Princesa Subterranean River National Park is a must-see for first time visitors to Puerto Princesa, Palawan. Its main attraction is an 8.2 kilometer Underground River that winds through a spectacular cave before emptying into the West Philippine Sea. At the mouth of the cave, a clear lagoon is framed by ancient trees growing right to the water's edge. Monkeys, large monitor lizards & squirrels find their niche on the beach near the cave. Visitors can also enjoy bird-watching, mountain trekking & exploring the deeper part of the forest. The park was declared a premier ecotourism destination and has been proclaimed a UNESCO World Heritage Site for its outstanding universal value and ecological significance as a natural site of intense beauty. The Puerto Princesa Subterranean River National Park is renowned worldwide as one of New 7 Wonders of Nature. Honda Bay is home to several islands that are perfect for swimming, snorkelling & diving. Take your pick from dozens of white sand beaches. Dive sites are abound as the entire area is studded with patches of corals & sand. Among the well-known dive sites are Pandan Island, Arreceffi Island & Panglima Reef where coral boulders and gray reef sharks can be found. Each island at Honda Bay offers different thrills. Snake Island has a sandbar that slithers on the surface of the sea. It is best for snorkeling, swimming or simply basking in the sand. It can be reached in an hour by boat. Bat Island, only 20 minutes away from Sta. Lourdes wharf, is teeming with bats which make their way out at sundown to look for food in the mainland. Visit Palawan, the Philippines' last frontier, with this exciting package from Javalava!

Terkenal di dunia sebagai sungai bawah tanah terpanjang yang paling indah serta dapat dinavigasi, Puerto Princesa Subterranean River National Park adalah tempat wisata yang harus dikunjungi bagi turis yang berkunjung ke Puerto Princesa, Palawan. Daya tarik utamanya adalah sungai bawah tanah 8.2 kilometer yang memiliki alur melewati gua spektakuler sebelum berakhir di Laut Barat Filipina. Di mulut gua, laguna dibingkai oleh pohon-pohon kuno yang tumbuh tepat di tepi air. Monyet, kadal besar, dan tupai menemukan tempat peristirahatan mereka di pantai dekat gua. Pengunjung juga dapat menikmati serta mengamati burung, trek gunung, dan menjelajahi bagian yang lebih dalam dari hutan. Taman ini dinyatakan sebagai salah satu tujuan ekowisata premier dan telah dinyatakan sebuah situs Warisan Dunia UNESCO untuk nilai universal yang luar biasa dan ekologi pentingnya sebagai situs alam yang selalu memberikan keindahan. Puerto Princesa Subterranean River National Park terkenal di seluruh dunia sebagai salah satu New 7 Wonders of Nature. Honda Bay adalah rumah bagi beberapa pulau-pulau yang cocok untuk kolam, snorkelling, dan menyelam. Silahkan pilih dari puluhan pantai pasir putih. Situs penyelaman yang berlimpah diberbagai daerah ini dipasangkan dengan tumpukan karang dan pasir. Beberapa tempat menyelam yang terkenal dari tempat ini adalah Pandan Island, Arreceffi Island, dan Panglima Reef dimana bongkahan karang dan hiu karang abu-abu dapat ditemukan. Setiap pulau di Honda Bay menawarkan sensasi berbeda. Seperti Pulau Ular memiliki sandbar yang merayap di permukaan laut, bagus untuk snorkelling, berenang, atau hanya berjemur di atas pasir. Pulau Ular dapat dicapai dalam satu jam dengan perahu. Sedangkan Pulau Kelelawar, hanya 20 menit dari Dermaga Sta. Lourdes, penuh dengan kelelawar yang keluar pada matahari terbenam untuk mencari makanan di daratan. Kunjungi Palawan dengan paket menarik dari Javalava!



Package Includes :

3D2N accommodation at hotel of choice
Daily breakfast
Puerto Princesa Underground River tour based on seat in coach with lunch
Roundtrip airport-hotel transfers

Package Excludes :

International/domestic air tickets
Philippines tourist visa (if any)
Personal expenses (telephone, mini bar, laundry)
Environmental availment fee – PHP 48 per person (USD 1)
Puerto Princesa International Airport terminal fee – PHP 60 per person (around USD 1.5)




Day 1: Meet & greet at Puerto Princesa International Airport

Meals: N/A




Meet & greet at Puerto Princesa International Airport (Airport code: PPS) then transfer to hotel for check in. Whole day free program or avail optional tour. Overnight in Puerto Princesa

Day 2: Boat Ride To Underground River

Meals: Breakfast




Breakfast at the hotel. Pick up from hotel then drive through the countryside for about 2.5 hours to Sabang passing through Ulugan Bay. 20 minutes boat ride to Underground River passing through magnificent limestone cliffs. 15 minutes Monkey Trail hike through the forest. Underground River tour guided by boatman. Lunch at local restaurant. Swimming at the beach (optional). Afternoon back to hotel. Overnight in Puerto Princesa


Day 3: Transfer To Airport For Departure

Meals: Breakfast




Breakfast at hotel then check out. Free program till transfer to airport for departure

Package Terms & Conditions :

Rates are quoted in US Dollars and non-commissionable, subject to change without prior notice Minimum 02 pax to go. Single occupancy rate applies for minimum 02 pax, each occupying a single room. Room accommodation subject to availability Puerto Princesa Underground River tour must be booked at least one month in advance as only 1,000 persons are allowed inside the cave per day Rates do not apply for peak season dates/blackout periods. Peak season surcharge/compulsory meals shall be advised upon reservation. BLACKOUT DATES: Christmas / New Year: 21 December 2012 – 06 January 2013 Chinese New Year: 08-15 February 2013 Holy Week: 24-31 March 2013 Golden Week: 29 April – 06 May 2013 Obon Period: 13-15 July 2013 Chuseok / Mid-Autumn Festival: 13-22 September 2013 Christmas / New Year: 21 December 2013 – 06 January 2014 Kindly advise names of guests & flight details upon reservation. Any un-utilized portion of this package is non-refundable. Whole package fare will be charged once booking is guaranteed. CHILD RATES: Child 3 years old and below free of charge. For child with bed and child no bed rates, please refer to table.





Latest Tour Packages by
Khan Travel Agency