Rajim Kumbha Mela with Tribal Wonder in Chhattisgarh Tour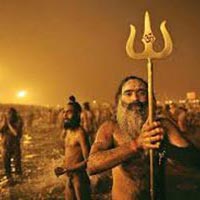 Rajim Kumbha Mela with Tribal Wonder in Chhattisgarh Tour
Package Duration

15 Days / 14 Nights

Destination Covered

Raipur - Siripur - Barnawapara Wildlife Sanctuary - Baiga Market/ Village - Camping/ Baiga Dance - Kanker - Kondagaon - Narayanpur market - Muria village - Camping/ Gotul
Description :

RAJIM KUMBHA MELA: (10th Feb - 24th Feb 2017)
Rajim kumbha is the grand festival, which has been celebrated at Rajim (three holy rivers the Mahanadi, the son and the pair mingling point, popularly known as the Prayag of Chhattisgarh) with thousands of devotees lots of saints and Naga sadhus participate the holy deep of the festival.
Location : Rajim is cultural capital of Chhattisgarh,
Nearest airport- Raipur ( 40km)
Nearest railway station- Raipur ( 44km). And it connect all weather motareble road . from Abhanpur 17 km.




Day 1: Arrival at Raipur

Arrival at Raipur airport - transfer to hotel.

Day 2: Raipur - Rajim

Raipur - Rajim ( Rajim Kumbha Festival)- Raipur

Day 3: Raipur

Raipur - Siripur- Barnawapara Wildlife Sanctuary

Day 4: Puri

Puri - Barnawapara Wildlife Sanctuary – 2 jeep safari ( morning and afternoon)

Day 5: Barnawapara

Barnawapara - Simga- Bharamdeo

Day 6: Bharamdeo

Bharamdeo - Baiga Market/ Village- Camping/ Baiga Dance

Day 7: Baiga Village

Baiga Village - Bharamdeo temple - Kanker

Day 8: Kanker

Kanker - Gotitola- Udkuda- Kanker

Day 9: Kondagaon

Kanker- Kondagaon-Narayanpur market- Muria village- Camping/ Gotul dance

Day 10: Muria Village

Muria Village - Maria village/ Market- Kurendi/ Jagdalpur

Day 11:

(Tue)- 21st Feb-Dandami Maria village/ Bison horn Dance- Tirathgarh waterfall-Jagdalpur ( Kurendi)

Day 12: Jagdalpur

Jagdalpur-Chitrakoot waterfall- unique Maria village-Jagdalpur

Day 13: Bastar Mark

Jagdalpur - Bastar Market- Kanker

Day 14: Kanker

Kanker - shivaratri special Darshan again RAJIM KUMBHA FESTIVAL- Raipur

Day 15: Departure to Raipur

Departure to Raipur airport for your onward destination.





Latest Tour Packages by
Orissa Tribal Tours