Rath Yatra (Chariot Festival) At Puri: (6Th July - 15Th July 2016) Tour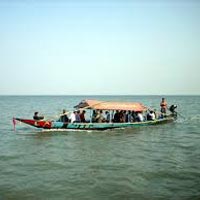 Rath Yatra (Chariot Festival) At Puri: (6Th July - 15Th July 2016) Tour
Package Duration

15 Days / 14 Nights

Destination Covered

Odisha
Description :

"Journey with God"; the grand chariot festival of lord Jagannath, popularly known as Rath Yatra celebrates throughout the country. But especially colorful at Puri and tribal area to attract million of devotee and visitors, they draw three chariots from main temple to Gundicha temple (3 and half km.) And back to it after 9 days to the main temple. A particular tribe in Odisha fixed the marriage at the beginning days of the festival and many newly married tribal couple wearing with their traditional costume and ornaments come in the beginning day of the festival which is another attraction.

Our festival tour begin at tribal part of Odisha - Bissamcuttack nearest airport is Visakhapatnam (250 km) and Bhubaneswar ( 400 km) . nearest railway station is Bisamcuttack ( 10km), nearest main railhead is Rayagada ( 45km) . and it connect with all weather motor able road.

And end at puri which is one of the major tourist attraction of our country. Puri nearest airport is Bhubaneswar ( 60 km). Main railhead is puri it self - 2 km from city centre.




Day 1: Arrival

Sat)- 2nd July/ 2016 - Arrival at Bhubaneswar airport - transfer to hotel.

Day 2: Bhubaneswar

(sun)-3rd July- Bhubaneswar - Kondh Tribe village - Kutria Tribe village ( camping)

Day 3: Bhubaneswar

Mon)-4th July-Hikking Kutia Tribe village - Rayagada

Day 4: Bhubaneswar

(Tue)- 5th July- Dunguria Tribe village - Desia Kondh Tribe village - (Camping)

Day 5: Bhubaneswar

Wed)-6th July- colorful chariot festival at Bisamcuttack - (Tribal community) - Jeypore

Day 6: Bhubaneswar

Thu)-7th July- Onkadelly( famous for Bonda Tribe market)- Gadhava village- Jeypore

Day 7: Bhubaneswar

Fri)-8th July-Kunduli- Bora Paraja Tribal village- Rayagada.

Day 8: Bhubaneswar

(Sat)-9th July- Jiranga ( Tibetan Buddhist monastery)-Taratarini.

Day 9: Bhubaneswar

(Sun)- 10th July-Taratarini- Chilika lake ( Boating at Mangalajodi)- Killajodi palace.

Day 10: Bhubaneswar

Mon)-11th July- Killajodi- Buddhist circuit( Lalitgiri/ Ratnagiri/ Udaygiri)- Killajodi Palace.

Day 11: Bhubaneswar

Tue)- 12th July- Killajodi- Rose Garden- Meditation Hall- Joranda( Mahima Sadhu Monastery)-Dhenkanal palace.

Day 12: Bhubaneswar

(Wed)-13th July- Dhenkanal - Bhubaneswar Temple Tour - Konark sun temple- Puri.

Day 13: Bhubaneswar

(Thu)- 14th July- Puri- The Grand Chariot Festival ( returning festival)- Puri

Day 14: Bhubaneswar

(Fri)-15th July- Puri- Golden Decoration during evening-puri

Day 15: Departure

Sat)-16th july- Puri- Departure for Bhubaneswar airport for your onward destination.





Latest Tour Packages by
Orissa Tribal Tours