Sana'A - Socotra - Hadiboo - Dihamry - Ras Ersel - Erher Tour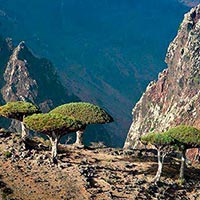 Sana'A - Socotra - Hadiboo - Dihamry - Ras Ersel - Erher Tour
Package Duration

4 Days / 3 Nights

Destination Covered

Sana'A - Socotra - Hadiboo - Dihamry - Ras Ersel - Erher
Package Includes :

He Price Of The Program Above Includes:
Airport Transfers In Yemen Continent And On Socotra Island: 4X In Sana'A And 2X On Socotra,
4Wd Car On Socotra Island (Including Driver And Gasoline),
Travel Permission,
2 Nights Accommodation With Breakfast In The Old City Of Sana'A,
An English Speaking Guide On Socotra,
Drinking Water During The Whole Tour,
3 Nights Camping In Socotra Island,
Camping Equipment Is Provided (Except For The Sleeping Bag),
All The Meals On Socotra Island (Breakfast, Picnic Lunch, Dinner),
All Entrance Fees To The Protected Areas On Socotra Island,
Yemeni Visa, Visa Preparation In The Ministry, Visa Assistance At The Airport,
Service Charges And Government Taxes.

Package Excludes :

The Price Of The Program Above Does Not Include: Domestic Airplane Tickets Sana'A - Socotra - Sana'A
But We Can To Booking For You When You Confirm .




Day 1: Sana'A - Socotra - Hadiboo - Dihamry - Ras Ersel - Erher.Sana'A - Socotra - Hadiboo - Dihamry - Ras

Meals: Lunch , Breakfast




Transfer to the airport in Sana'a and take a flight to Socotra Island. Arrive to Socotra and meet with your driver. Depart to Dihamry protected area. Return to Hadiboo, than drive to Dilisha beach. Continue to Ras Ersel and Erher.

Day 2: Erher - Dixam - Wadi Dirhur - Amak

Meals: breakfast, picnic lunch, dinner




Depart from Erher to Hadiboo and visit the Socotra Eco center. Depart from Hadiboo to Dixam plateau and to the Shiphon view point. Continue to Wadi Dirhur and visit the pools there. Later we will drive to the southern coast, where you can enjoy swimming in the warm sea. Overnight camping on the beach.

Day 3: Amak - Qalansiya - Schuab - Hadiboo.

Meals: breakfast, picnic lunch, dinner




After breakfast take a boat excursion to Schaub (maybe we will spot dolphins on the way). After few hours depart by boat back to Qalansiya, and from there drive back to Hadiboo. Maybe last night for some henna painting in one of the nearby houses. Overnight in Adib camp place near Hadiboo.

Day 4: Hadiboo - Airport - Sana'A

Meals: breakfast




Transfer to the airport and take a flight to Sana'a. After arrival free afternoon in Sana'a Old city (no car and guide included). Optional hammam visit.

Package Terms & Conditions :

Incense Caravan Tour Operator In Yemen discovered with us the hidden beauty of Yemen and Socotra Island . We Provides Tours and Packages for Sightseeing, Trekking, Culture, Adventure , Groups and Individuals ,Car rentals, offers accommodation , visas .





Latest Tour Packages by
Incense Caravan Tour Operator