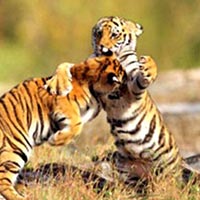 Sundarban Tour Package Tour Kolkata
Package Duration

2 Days / 1 Nights

Destination Covered

World Heritage Site Sundarban - Sundarban Wildlife Sanctuary - Sundarban Mangrove Forest - Sundarban National Park - Sundarban Island
Starting Price :

On Request
Description :

Hilsa Festival Package Tour To Sundarban August 15 To 17 Of 2013
Special Delicious Dishes Of Hilsa : Hilsa Fry, Begun Hilsa, Cocoanut Hilsa, Mustard-Hilsa, Bhapa Hilsa, Hilsa Paturi, Posto-Hilsa, Malai Hilsa, Dahi Hilsa

Puja Festival Package Tour To Sundarban October 18 To 20, 24 To 26 & 25 To 27 Of 2013

Speciality : Enjoy Sundarban In Daytime And Also Enjou Rural Traditional Puja Pandels At Evening By Tourist Boat And Rural Paddled Van Through Rural Winding Muddy Way Enjoying A Beautiful Rural Quiet, Calm And Serine Nature Full Of Golden Corn Fielf, Kash Flowers, Huts, Domestic Animals, Chirping Birds, Ducks Floating In Canals, Lotus Blooming In Ponds, Red Sun Setting Behind Horizon And Mingle With Rural Culture, Fair And Myth. New Feeling, New Ecstasy, New Charm And New Thrills That You Have Never Enjoyed And Many More With Free.

Diwali Package To Sundarban November 15 To 17 Of 2013
Speciality : Enjoy Night'S Darkness, Silence, Throw Fires Like Rockets And Other Silent Fires In The Sky Being Floated By Boat In The Middle Of The River. New Feeling, New Ecstasy, New Charm And New Thrills That You Have Never Enjoyed.

Package Excludes :

Video Camera Permission Rs.200/- Per day and your personal expenses.




Package Terms & Conditions :

No Charge For The Children Below 3 Yrs Old Half Charge For The Children Between 3-5 Years Old Full Charge For The Children Above 5 Years Old N.B. Camera Permission @Rs.200/- / Day Will Be Taken By You. We Don't Compromise With Quality. For Any Further Clarification Please Feel Free To Call Us 50 Percent Advance, 25 Percent Before 5 Days Of Journey And Rest 25 Percent Before Start Of The Journey. Must Carry Authentic Id Proof Like Voter Id, Pan Card, Passport, Driving License For (Domestic Travellers). Passport And Visa For (International Travellers). Don'T Carry Plastic, Thermocol And Any Other Polluting Items During The Entire Journey. Always Keep Silence And Cooperate With Us And Concerned Govt. Dept. Always We Require Your Utmost Cooperation. We Shall Not Be Responsible For Any Unavoiadable Circumstances And If It Happens So We Are The One And Only Authority To Take Final And Decisiive Decision.





Latest Tour Packages by
Once More Tour & Travel