GUJARAT - The Chalukyan Architecture Trail Package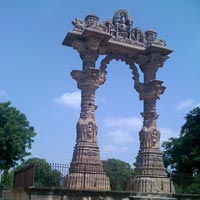 GUJARAT - The Chalukyan Architecture Trail Package
Package Duration

3 Days / 2 Nights

Destination Covered

Ahmedabad - Vadnagar - Danta - Taranga - Kumbharyaji - Ambaji - Balaram - Siddhpur - Patan - Modhera
Description :

The Solanki Rajput rulers brought in a golden period of architecture in Gujarat - superbly designed Hindu and Jain temples were built by them. Importantly, they helped create water retaining structures like stepwells or vavs, stepped tanks or kunds and artificial lakes called talaos. The multi-storey stepwells were so exquisitely carved that they look like subterrannean palaces with detailed sculpture stringcoursing the stairways all the way to the well shaft. The stepped tanks and artificial lakes had fine temples along the embankments or steps. The walled towns and fortifications with fine stone carvings are another architectural highlight of the period.

Package Includes :

Hotel Stay, Transportation.

Package Excludes :

Any Expenses of personal nature.




Day 1: Ahmedabad - Balaram

Meals: Breakfast, Lunch, Dinner




Depart after breakfast from Hotel for Danta via Vadnagar (a medieval walled town with 12th century carved gateways, Vadnagar is known for its huge Torana or 12th century columns surmounted by an arch, 17th century temple, medieval artificial lake that is still used by the local people, havelis of the Naggar Brahmins and other communities, and archaeological excavations where Mathura-style Buddha terracottas, toys, implements of the 4th-7th century AD have been found) and Taranga (A large 12th century Jain temple built from local stone with exceptionally fine sculpture and architectural detail). Arrive at Bhavani Villa, a heritage homestead in Danta, in time for lunch.
In the afternoon, visit the Bhil and Garasia tribal hamlets around Danta for photographing/painting village scenes, portraiture and seeing local pottery OR visit the 1064-1134AD Jain temples of Kumbhariyaji to see its marble carvings and the Hindu temple of Ambaji, about 19km from Danta. Return to Danta for dinner and stay at the Bhavani Villa or Balaram Palace Resort.

Day 2: Balaram - Danta

Meals: Breakfast, Lunch, Dinner




Morning tea at the former ruling family's stud farm of Marwari and Kathiawadi horses, dairy cattle, and aviary birds. After breakfast, depart for princely Palanpur which has some grand old buildings, Sidhapur to see the Bohra Muslim mansions, Patan (a historic walled citadel that was the Solanki capital of Gujarat, Patan has a seven-storeyed 11th century stepwell with magnificent workmanship and a sacred lake surrounded by small Shiva shrines. A living legacy of Patan is its Patola silk weaving using the intricate double ikkat process) and 11th century Modhera Sun Temple. Return to Danta to stay in Bhavani Villa.

Day 3: Danta - Modhera - Gandhinagar - Ahmedabad

Meals: Breakfast, Lunch, Dinner




Return to Ahmedabad via Modhera Sun temple, visit to Akshardham Temple in Gandhinagar and Adalaj Stepwell to Hotel.

Package Terms & Conditions :

If at all will be communicated at the time of confirmation.





Latest Tour Packages by
Impression Gujarat Tours & Travels