Trekking Valley of Flowers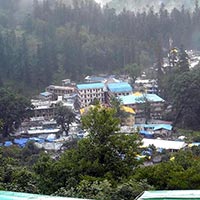 Trekking Valley of Flowers
Package Duration

7 Days / 6 Nights

Destination Covered

Haridwar - Ghangari - Valley Of Flowers - Hemkund
Description :

Valley Of Flowers National Park (Core-Ii)
The Second Core Zone Of The Nanda Devi Biosphere Reserve Consists Of The Valley Of Flowers National Park. The Credit For The Discovery Of The Valley Of Flowers Generally Goes To The British Mountaineers Frank S. Smythe And R.L. Holdsworth Who Incidentally Reached This Valley After A Success Full Expedition Of Mount Kamet In 1931. Fascinated By Its Beauty And Grandeur Frank S. Smythe Revisited This Area In 1937 And Published A Book Named "The Valley Of Flowers" (1938). But According To Sharma (1985) It Was Colone Edmund Smythe, An Explorer And Education Officer In The Indian Army Had Visited This Valley Much Earlier I.E. In 1862. However, There No Doubt That Frak S. Smythe'S Writing Made This Valley World Famous. The Valley Of Flowers Lies Main Valley Of Alaknanda And Laxman Gnga In The Garhwal Garhwal Himalayas In Chamoli District Of Uttaranchal. River Pushpawati Flows Through This Valley Which Has It'S Source In Tipra Glacier Which Extends Upto Ghori Peak. The Valley Is Spread Over An Area Of 87.5 Sq. Kms. And Is 3250 Mts. To 6750 Mts. Above Sea Level. The Valley Remains Snow Covered From November To May, But In The Month Of June, When Snow Melts, The Valley Blooms With Colors Hidden In The Petals Of Rare Species Of Flowers And Spreads As The Carpet Of Flowers Woven By Mother Nature. Almost 300 Species Of Wild Flowers Bloom Here In Natural Way. The Valley Remains In Bloom For Three Months While The Floral Composition Keeping On Changing Every Few Days. Apart From Flowering Plants, Wild Animal And Birds Enhance The Beauty Of This Natural Flowing Valley . The Park Is Surrounded By Gauri Parbat (6590 Mts.) And Rataban (6126 Mts.) In The East, Kuntkhal (4430 Mts.) In West, Saptsring (5030 Mts.) In The South And Nilgiri Parbat (6479 Mts.) In The North.
To Conserve The Nature'S Benevolent Gift And To Maintain The Natural Balance Of The Valley Was Declared A National Park In 1982.

Hemkund Lokpal Sahib:
Hemkund Sahib Situated At A Height Of 4329 Mts. Near The Valley Of Flowers, Is The Holy Hemkund Lokpal Sahib Lake. Though The Climbing Is Steep And Tiring, It Provides Scenic Beauty And Majestic View Of Crystal Clear Lake Surrounded By Seven Snow Clad Peaks Of Mighty Himalayas. According To Holy Granth Sahib, The 10 Guru Of Sikh Faith, Guru Govind Singh Meditated On The Bank Of This Lake In His Earlier Birth. Apart From Sikh And Hindu Community, People Of Other Faiths Also Visit This Lake.
This Place Is Also Associated With Lakshaman, Younger Brother Of Rama. It Is Believed That Lakshaman Meditated Here And Regained His Health After Being Severely Wounded By Meganath, Son Of The Demon Ravana, During The Battle. There Is A Lakshaman Temple, Built On The Bank Of The Lake.

General Information:
Area : 87.5 Sq. Kms.
Year Of Establishment : 1982
Best Season : July & August
Maximum Temp. : 17 Deg. Celsius
Minimum Temp. : 07 Deg. Celsius
While Visiting The Valley:

Do Not
1) Camping Or Overnight Stay.
2) Destroy, Collect Or Remove And Specimen Whether Live Or Dead.
3) Carry Or Introduce Any Animal.
4) Kindle Fire, Throw Lit Matches And Cigarette/Bidi Buds.
5) Throw Or Leave Trash, Litter And Polyethylene Bags Etc.
6) Take Fire Arms Or Chemicals Harmful To Wildlife And Vegetation.
7) Make It A Picnic Ground.

Season: Mid June To Mid September




Day 1: Rishikesh

On Arrival In Rishikesh, Meet And Greet By Our Tour Guide, Check In Hotel. Fresh N Up. Guide Will Describe You About Next Day Program. Dinner And Overnight Stay In Hotel.

Day 2: Rishikesh/Joshimath.

Morning Tea. Put Your Luggage At Hotel'S Lobby. Breakfast And Leave For Joshimath, The Hill Journey Starts From Rishikesh. First 71 Kms. Drive Along The Ganga Ie. Rishikesh To Devprayag Passes Though Forest And Villages. First Stop Over Is Devprayag, Where Bhagirathi And Alaknanda Rivers Meet. From Here The Holy River Ganges Starts. Rishikesh Is At An Altitude Of 356 Mts. And Joshimath Is At 1890 Mts. So, Vehicle Has To Climb All The Way To Joshimath. Arrival At Joshimath By Evening, Check In Hotel. Dinner And Overnight Stay.

Day 3: Joshimath/Govindghat/Ghangaria.

Breakfast In Hotel. From Joshimath To Badrinath The Road Is Very Narrow And Hence There Is Gate System To Avoid Accidents It Is Better To Catch The Second Gate For Onward Journey To Govindghat And It Takes 45 Min. Govinghat Is At An Altitude Of 1500 Mts. And Ghangaria Is At 3100 Mts. So One Has To Climb All The Way To Ghangaria On Mule Road ( Khaccher Road ) Means More Than 8 Feet Wide Road. Lunch Will Be Provided En Route. On The Way To The Ghangaria One Can Find Numbers Of Sikh Pilgrims Walking And Chanting Wahe Guru And Young Sikhs - Wahe Guru Da Khalsa Wahe Guru De Fateh (Loudly). Reaching Ghangaria Check In Hotel. Ghangaria Is Very Small Town, Always Over Populated With Pilgrims And Nature Lovers. In Ghangaria , We Accommodate 3 To 4 Person In One Room. Fresh N Up And Guide Will Describe Next Day,S Programe. Dinner And Overnight Stay.

Day 4: Ghangaria / Valley of flowers.

Morning Breakfast And Trek To Valley With Packed Lunch. After One Kms. Climb, We Reach Forest Check Post. It Is The Diversion Point, Left Trail Goes To Valley And Right Mule Path Goes To Hemkund Saihb.
At Forest Check Post One Has To Pay Camera /Movie Camera Fee.A Beautiful 15 Min. Walk Up To A Still Bridge Over The Pushpwati River And After Crossing The Bridge, Trail Becomes Narrow And Steep Up To One And Half Kms. After That The Trail Goes Up Gradually. During The Trek One Has To Cross Glacier And Some Small Streams. Reaching Entrance Of Valley, The Trail Goes Down To Marry Grave. Spend 2 To 3 Hours And Return To Ghngaria By Evening. Evening Tea With Cookies. Dinner And Over Night Stay.

Day 5: Ghangaria / Lokpal Hemkund Sahib.

Morning Breakfast In Hotel. 6 Kms. Difficult And Steep Trek Leads To Hemkund Sahib. On Reaching Hemkund, One Can Enjoy A Full Glass Of Hot Tea Sponsored By The Gurudwara. But Only Thing Is You Have Wash Your Glass Your Self. Have Darshan. Enjoy The Beautiful Lake Surrounded By Seven Snow Clad Peaks. Hike Around Hemkund. Lunch. Trek Down To Ghangaria. Evening Tea. Dinner And Over Night.

Day 6: Ghangaria / Govindghat/Srinagar.

Morning Tea. Early Breakfast And Trek Down To Ghangaria. At Ghangaria Our Vehicle Is Waiting And Further Drive To Srinagar. Lunch En Route. On Arrival At Srinagar, Check In Hotel. Dinner And Overnight.

Day 7: Srinagar/Rishikesh/Delhi.

After Breakfast Drive To Rishikesh, It Takes Three And Half Hours. Lunch And Departure.





Latest Tour Packages by
The Adventure Journey