Tribal Tour Of Chhattish-2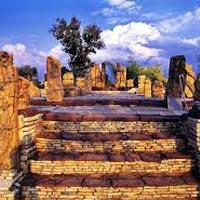 Tribal Tour Of Chhattish-2
Package Duration

8 Days / 7 Nights

Destination Covered

Visakhapatnam - Kotpad - Jagdalpur
Description :

This below given suggested itinerary has started from Visakhapatnam and end at Raipur( weekend to weekend). So, it is the reverse itinerary programme of above one. If guest are interest to extend the programme with colourful orissan tribal communities (which will come in between Visakhapatnam to Jagdalpur) we do plan to add to it accordingly the arrival and departure days.




Day 1: Arrival Visakhapatnam

Arrival Visakhapatnam-

Day 2: Visakhapatnam

Visakhapatnam-Kotpad- Jagdalpur-(320 km-7hr drive+ Visit)

Day 3: Jagdalpur

Jagdalpur-Dandami Maria (Bison Horn Maria) village- Tirathgarh water fall- camping at Maria village ( 4hr drive+ Visit)

Day 4: Batra - Chitrakoot waterfall

Batra - Chitrakoot waterfall- Dhurua Tribe village-Jagadalpur(4hr drive+ Visit)

Day 5: Kondagaon

Muria Tribe village - Kondagaon - Kanker - camping at Muria village ( 4hr drive+ visit)

Day 6: Kanker

Kanker-Gond tribe village-Bharamdeo-(6hr drive+visit)

Day 7: Baiga tribe village

Baiga tribe village- Bharamdeo(4hr drive+ visit)

Day 8: Departure

Bharamdeo- Raipur Departure.(4hr drive)

Package Terms & Conditions :

We are the only tour operator who organize the tent tour (camping) in Dandami Maria , Baiga & Muria village for special interest guest and also organize the tribal dance programme at Dandami Maria village, Baiga Dance at their village and Gutul dance in Muria village during tribal tours. Hiking of different isolated village & weekly market.
Explore and experience the real charm of colorful culture and tradition of tribal with our tent Tours( Camping) in Chhattisgarh comes in a special interest tour package at an affordable price.





Latest Tour Packages by
Orissa Tribal Tours