Tribal Wonder of Chhattisgarh Tour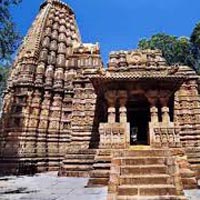 Tribal Wonder of Chhattisgarh Tour
Package Duration

8 Days / 7 Nights

Destination Covered

Abhuj Maria - Bison Horn Maria - Baiga - Dhurvaa
Description :

The Bastar district of Chhattisgarh has the largest tribal population in the state with Gonds being the most prominent tribes. Each tribal group in Chhattisgarh has its own distinct culture and tradition. They like to stay away from the modern civilization and live in their won world. The tribe's ain Chhattisgarh speak different languages. Their attire is also very different and colorful and they love wearing jewellery made of beads and metals. They are very vibrant and colorful and their main source of entertainment is their own folk songs and dance. The tribal of Chhattisgarh celebrate various festivals throughout the year. Navakhana, Mati Puja, Goncha are some of the festival they celebrate. Explore and experience the real charm of colorful culture and tradition of tribal with our Tours in Chhattisgarh comes in a special interest tour package at an affordable price.

GONDS
The Gonds tribes, who are also recognised as the Koytorias are widely dispersed throughout the state. However they mainly predominates the dense forests enclosed in southern Chhattisgarh's Bastar district. The three principal sub castes of the aboriginal Gonds are the Dorla, Maria and Muria races.

ABHUJ MARIA
Amongst the various tribals residing in Chhattisgarh, the Abhuj Maria races of aborigines deserve special mention. They live in isolation and inhabit the secluded enclaves of Bastar District. The areas inhabited by the Abhuj Maria tribals are a dense forest that sprawls across nearly 1500 miles of lush greenery. The Abhuj Maria tribals at times are hostile to strangers. They still follow their age-old practices of livelihood.

BISON HORN MARIA
This tribal community of Chhattisgarh derived their name from their unique custom of wearing a distinctive hear-gear, which resembles the horns of a wild bison. They generally wear that head-gear during ceremonies. The main distinct language spoken by this tribe of Chhattisgarh is Dandami Maria. Some of them speak Gondi dialects, which is an oral language of Dravidian Origin.

BAIGA
The Baiga tribe are among the most colourful tribal communities not only Chhattisgarh but also in India. The special tattoo mark on the forehead and body of the female give the different identity among other. Endogamy and consanguineous marriage are features that are commonly prevalent in the society of the Baigas. Agriculture, hunting, fishing, extracting forest products etc. are the prime occupations of Baiga tribe.

DHURVAA
These tribes are located in Bastar region. The cloth wearing style of Dhurvaa lady, their hair style, tattoo mark , on their foot they wear metal anklet also specify them to other.

MURIA
The populace of Chhattisgarh is mainly dominated by tribal of which the Muria rave of aborigines holds a special place. The Murias are one of the innumerable tribes that inhabit Chhattisgarh. They are prominent sub caste of the Gonds. The Muria tribesmen primarily reside in the dense forest zones of Narayanpur and Kondagaon of Bastar district. Unmarried young girl's dormitory Gotul is prominent in this Muria tribal village.

KORVA
The Korva tribals are found in Bilaspur, Sarguja and Raigarh district and are divided into two main territorial groups- Pahari Korva (hill) and Plains Korva (dihariya). They usually carry bow and arrow and practice agriculture and collect forest produce as well. Both men and women of Korva tribes are fond of ornaments and they wear it a lot.

BHATRA
Bhatra tribes are located in Bastar and border of orissa state, their settlement ( wall of houses and boundary made by clay) is unique then others. They are ranked first in terms of social hierarchy. They worship Mahua trees.




Day 1: Raipur - Rajim - Kanker (170km-4hr drive+visit)

Upon arrival Raipur airport/ Railway station meet our representative and drive towards to Kanker. If time permit visit the Rajim Group of temple-7th c AD ( In the mingling point of three river). Upon arrival Kanker check in a nice heritage Palace and relax with royal hospitality.

Day 2: Kanker - Muria tribal village - Kondagaon - camping at Muria village (180km-4hr drive+visit)

Drive towards Kondagaon , famous for metal casting and terracotta work ( meet the artisan over there) . afternoon visit the nice weekly market of Muria tribe at Narayanpur. 

Then drive towards one of the most colorful village of Muria tribal, camping at there and visit their Gotul house (unmarried young girls dormitory) and explore their life style at their village. Their house made by wood and clay. (evening enjoy their Gotul dance and bamboo stick dance while overnight staying in tent )

Day 3: Muria Village - Chirtrakoot - Maria village - Jagdalpur (200km-5hr drive+visit)

Morning drive towards Jagdalpur enroute visit the gorgeous Chitrakoot waterfall and maria tribe village , their unique worship place, monument etc . check in a nice clean comfort resort at kurendi village.

Day 4: Dandami Maria village / Bison Horn Dance - Kangarghati national park/ waterfall-Jagdalpur (150k

Morning meet the colorful Dandami Maria Tribe at their village and enjoy their Bison Horn dance. Visit the Kangarghati National Park and enjoy the packet lunch near Tirathgarh waterfall. Late Afternoon visit the city sightseeing of Jagdalpur. Overnight at the same resort.

Day 5: Jagdalpur - Keskal - Kanker (160 km- 3hr drive+visit)

Departure for Kanker , enroute visit the unique Gond tribal village at Keshkal region. Check in the nice heritage palace at Kanker and relax.

Day 6: Kanker - pre-historic rock art site - camping at Baiga tribal village/ dance (320km-6hr drive+ vi

Visit the pre-historic rock art site near Gotitolla. Drive towards Baiga village ( in deep forest area). Upon arrival warm welcome by the Baiga Tribes. Overnight stay in the basic tent. Evening enjoy their group dance.

Day 7: Baiga village - Bhoramdeo - Raipur ( 180 km-4hr drive+ visit)

Morning after early breakfast explore the life style of Baiga tribe while hiking. Then drive towards Bhoramdeo and excursion the Grand Bhoramdeo shiva temple-11th c AD. Then drive towards Raipur. Upon arrival check in a nice hotel .

Day 8: Departure

Departure to airport for your onwards journey.
Note:- For Chhattisgarh and Odisha ( combine) tribal tour program visit our special India tour pages.

Package Terms & Conditions :

Note: also each day of the Bastar region there is a weekly market for different tribal communities. Where is nice to explore the lifestyle of that particular tribe. So, just mail your arrival and departure detail rest you leave on us.





Latest Tour Packages by
Orissa Tribal Tours