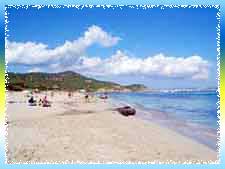 Es Cavallet Beach is an official beach for naked bathing. This beach consists of a green belt of hills and shades, it is supported by sand dunes at the back and it is natural and wild. This beach is highly
famous with the windsurfers
when the east wind blows. This is because when this wind blows, large bursting waves are formed which provide very exciting conditions for windsurfing.
Place to meet
A very wide sandy beach and the rolling dunes are ideal for beach walks. The sandy dunes are the most preferred meeting points for the homosexuals during the summer months. This beach also radiates a party mood, with its cocktails and disco music.
Attractions
The phenomenal beauty of the place is really simply great. The beach and greenery that surrounds place is one of the finest images to draw. In addition, local artistry and music, lifestyles are some of things that help you know the place better. People of the place greet their guests with loads of affection and honor. That is why people get glued to the beach as none of them wants to get back.
Access
Well this beach although being isolated from the hustle and bustle of cosmopolitan lives is yet one of the well built beaches. Streets, and other things that connects the place are well constructed.