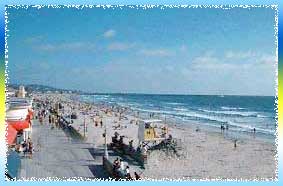 Mission Beach is center of the Strand (a long stretch of beach that stretches over 2 miles from Mission Bay channel entrance to the Pacific Beach in the north). Mission Beach is a favorite holiday place for the people of the city of San Diego.
Mission beach in summers
In summer the beach is full with the locals as well as tourists. Along the beach is a narrow cemented boardwalk that runs till the entire beach. One can walk or even use a bicycle on the boardwalk but speed should be controlled.
Mission beach at your services
The beach is surrounded with various restaurants, and shops. Also one gets here beach rental outfits that match to the moods of Mission beach. On the northern side of the Mission Beach lie various private properties though some shops can also be seen around.
Mission beach: wonderful offers
If one wishes for a place to spend best of his intimate times, then only one name pops up. Several tour and travel packages are offered for Mission beach. These packages are comprised of all the services depending upon one