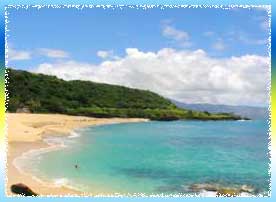 Called the 'Surfer's Paradise' by many, Waimea Beach is spread over a large area and offers a breathtaking view of white sands contrasting with the fresh cerulean waters. The beach is a part of the Waimea Bay shoreline and is also called as the bay- mouth bar, since it blocks the mouth of the Waimea River. There are exciting opportunities for surfers as competitions are held every year, where tourists get to see the spectacular surfing skills of local and international surfers battling waves as high as 30 feet and more. The water there has strong currents so you should take care and follow the necessary instructions before indulging in the activities. The beach is well-developed and you will face no problems in using the restrooms, picnic tables, showers, and parking areas that line the area. The surrounding areas have many facilities that make it a haven for tourists from all over the globe. Aside from the sports, natural activities will take you to the waters where you can discover the rich flora and fauna in the underwater explorations with family or friends. The playful atmosphere of the people and the place enchants everyone and a magnificent view of the coral reefs in the water will make you come back again and again. Visiting once is simply not enough! The beauty of the place has even inspired many artists to write songs about the mesmerizing sunsets and the amazing beaches.
Things To Do
Surfing
Swimming
Snorkeling
Rock climbing
Free diving
Fishing
Cruising Around
If you can steal away a few hours then a magical world awaits you in the nearby areas. Kupopolo Heiau and Puuomahkua Heiau are two ancient sites that are frequented by travelers and worth visiting.
The valley of Waimea and the exciting Adventure Park are other attractions that have made the Waimea Beach and Bay an ideal destination for people of all ages.