Top Tourist Places To Visit in Modhera
Modhera Overview
Modhera is a small town located in the Mehsana district of Gujarat. This town was known as Dharamanya in the puranic age. According to the legends, Lord Rama did penance at Modhera to cleanse the sin of killing the demon Brahmin scholar Ravana. Also, this town is popular for housing the astounding Sun Temple that was constructed during the Chalukyan rule in the region. It is now looked after by the Archaeological Survey of India.
Modhera stands on the banks of the River Pushpawati and is elevated at a height of 600 feet above the sea level. The land of this region is a jagged terrain. Modhera has a tropical climate. It encounters warm summers with the median temperature of 35°C and pleasant winters with the average temperature of 14°C. It receives a heavy rainfall during the monsoon season. The annual average rainfall received by Modhera is 2800 mm.
Modhera is best-known for housing the Sun Temple. It is a 10th-century grandeur that was constructed during the reign of King Bhima I of the Chalukyan dynasty. It is carved with intricate detailing done on the exteriors as well as interiors.
Read More
Book Modhera Tour Packages
1-3 days
4-7 days
8-14 days
14+ days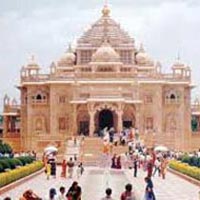 Top Travel Agents in Modhera

Top Places to Visit in Modhera