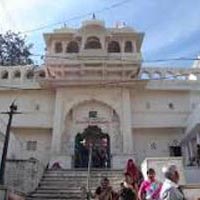 Bharmh Temple In Puskar (Raj)
Package Duration

2 Days / 1 Nights

Destination Covered
Price Per Person

Rs 3,000
Day 1 :

Puskar Tour (Raj)

Description :

Jagatpita Brahma Mandir (Hindi: जगत्-पिता ब्रह्मा मंदिर) is a Hindu temple situated at Pushkar in the Indian state of Rajasthan, close to the sacred Pushkar Lake to which its legend has an indelible link. The temple is one of very few existing temples dedicated to the Hindu creator-god Brahma in India and remains the most prominent among them.

Although the present temple structure dates to the 14th century, the temple is believed to be 2000 years old. The temple is mainly built of marble and stone stabs. It has a distinct red pinnacle (shikhara) and a hamsa bird motif. The temple sanctum sanctorum holds the central images of Brahma and his second consort Gayatri.

The temple is governed by the Sanyasi (ascetic) sect priesthood.[2] On Kartik Poornima, a festival dedicated to Brahma is held when large number of pilgrims visit the temple, after bathing in the sacred lake.

Gurgaon To Pushkar City (Raj) Min 4 Persons.







Latest Tour Packages by
Blue Sky Cabs