Exploring Myanmar Culture Tour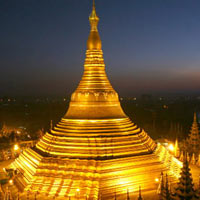 Exploring Myanmar Culture Tour
Package Duration

4 Days / 3 Nights

Destination Covered

Yangon - Golden Rock
Package Includes :

All Entrance fees
Hotel, Meal
Transport
Tour Guide

Package Excludes :

Airfare charges
After dinner pub and drinks charges
Hotel International call charges
Hotel Bar fridge charges and other service charges




Day 1: Yangon - Golden Rock

Receive at Yangon International Airport
Travel to Bago
Lunch
Check in to Hotel
Visit the Kyaik-htiyo-Pagoda (Golden Rock Pargoda)
Dinner
Overnight in Hotel

Day 2: Golden Rock - Yangon

Breakfast at hotel
Check out from Hotel
Travel back to Yangon
Lunch
Visit Jewel Museum or the Bogyoke Market
Tea break
Visit to Shwedagon Pagoda
Dinner
Night city Sightseeing or rest and relax
Overnight in Hotel

Day 3: Arround Yangon

Breakfast at hotel
Visit to Myanmar Cultural Village (50km from Yangon city)
Lunch
Visit Jewel Museum or the Bogyoke Market
Visit local Shopping Complex
Dinner
Visit to Bo Ta Htaung Pagoda or Rest and relax
Overnight in hotel

Day 4: Departure day

Breakfast at hotel
Check out from Hotel
Visit to Bogyoke Market or Local Shopping Complex
Lunch
Transfer to Yangon International Airport

Package Terms & Conditions :

Booking Condition: This program is base on min of 2paxs per booking. Reservation & Confirmation Policy. All reservations must be made in written in two months advance directly to ABT Travels & Tours Office in Yangon according to Yangon hotel fully book for high season. Final rooming lists for groups must be received by the mail or fax at least 30 days prior to the arrival date. Cancellation & no show Policy. All cancellation shall be in writing and dates, through letter, fax or e-mail. Any verbal or telephonic cancellation made shall be subject to confirmation in writing. Applicable minimum notice and charges for a cancellation and no show. Should total cancellation or reduction of confirmed reservations number of room or night and reservation date postponement will also be subjected to cancellation policy of hotel & local airlines. The below circumstances will be flexible for cancellation policy, such as political circumstances, flight cancellation due to avoidable circumstances & health stipulation. No-show fees are equivalent to contracted Traffic Agency Nett price for person(s) reserved. Payment Terms & Policy. Payment should be settled directly to Reservation Office (Yangon). 30% deposit (based on total charges) will be required for FIT from 15 days prior to the confirmed arrival date. 50% deposit (based on total charges) will be required for group from 30 days prior to the confirmed arrival date. The balance must be settled (based on total charges) will be required from 7days prior to the confirmed arrival date. Yours bookings will not be confirmed if we have not received any deposit on our reminder period. Yours bookings will not be refunded if cancellation occurs within one week (7) days of scheduled arrival. Your mobile phones could not be used in Myanmar as there are no roaming agreements. But, pre paid phone card can be used in Myanmar. Credit Card &Traveler Cheques. All credit cards, ATM cards& Traveler Cheques are not possible to use in Myanmar except some hotels and shops. Credit card services may carry a surcharge of 5% to 7%.Euro is usable but not still widely accepted as US dollars Traveler should bring hard currency (New US$ notes). Responsibility & Liability. Regarding to travel by any means of transportation and assume no liability for any loss, injury or damage sustained by the person including those occurring along the touring programs ABT Travels Tours will assume no responsibilities for any loss or additional expenses due to accident, delay, sickness, weather, strike or other causes beyond our control. Complaints & Claims First and foremost, all disputes, claims and litigations regarding to the services should be solved by means of negotiation and mutual understanding. Finally, if all these efforts are failed to reach a reliable solution or successful resolution in the best term, shall be settled by means of arbitration method in accordance with the existing acts, laws, rules and regulations of the Union of Myanmar.