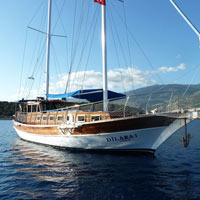 Kas Daily Islands Boat Trip
Destination Covered
Price Per Person

Rs 39,300
Other Benefits (On Arrival)

Description :

We will meet at 10:00 o'clock at the old yacht harbour.
Our cruise will start on the deep blue waters of Mediterranean.
Our first destination are the small Kas Islands, the nearest islands to Meis,, the Greek Island of Castalorizo. This place is one of the most important diving destinations of Turkey. We will take a swimming and snorkelling break here for an hour. These islands promise unforgettable moments on the cleanest and most turquoise waters of Mediterranean for swimming lovers. Here, you can also snorkel and see an Italian sunken warship from WW2.
After our break at the islands, our next destination is Ufakdere bay. The delicious meal from our Mediterranean kitchen will be waiting for you after you have relaxed by swimming or reading 45 minutes later.
After a delicious lunch, our next destination is Güvercin island. There is a small sea museum, during our break you can visit the shark monument or enjoy the Mediterranean waters.
After Güvercin island, our next destination is Limanagzi bay. After a 45 minute swimming break, we will offer you tea, cake and fruit.
After hours of relaxing, our cruise will end at 18:00.







Latest Tour Packages by
Kas Yacht