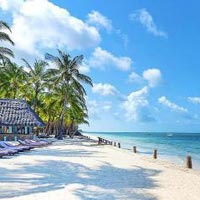 Lamu Accomodation
Destination Covered
Price Per Person

On Request
Other Benefits (On Arrival)

Description :

Lamu is an ancient town steeped in history - it is also, in the third world. The town was recently designated a World Heritage site - surely such powers that be can't be wrong? As such, some funding is now available to restore buildings that otherwise would be lost, as the local people can hardly afford to live, let alone rebuild and restore these ancient and elaborate homes to their former glory. Many of these lovely stone town houses have been restored by European owners - they are the height of luxury but the electricty still cuts off on a regular basis! Lamu is a struggling, living/working island, not a tourist lead place, although tourists are made very welcome. Donkeys carry building materials leaving a trail of 'mess', fishermen wheel carts of fish, dhows are repaired using smelly shark oil, boxes of imported goods are piled high on the jetty - No - it's not clean and tidy, it's life in Lamu. Tourists provide a much needed source of revenue and over the past ten years huge improvements have been made to bring accomodation and food in line with the rest of the worlds expectations. So far this has not detroyed the fundamental character of this Swaheli island. The streets may not be swept daily and sprayed with disinfectant but as the Lamu people say Allah be praised - this is AFRICA.
Dining can be done just by sea front restaurants, wide collection if sea food, local foods and international cuisine sampled, menus designed for ala carte and also buffet.
Accommodation Only

Package Excludes :

Sailing, water sport, transport, meals




Hotel: Lamu Place
Address : Lamu Place, Malindi, Kenya
Hotel Rating :

Facilities : Self-Catering, Concierge, Security Guard
Description : Just 100 meters to the sea front, an amazing collection of old swahili houses, made conducive for you with modernized fans and beddings, all rooms sea facing.





Latest Tour Packages by
African Suburbs Adventures