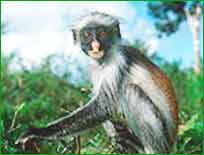 Dampa Wildlife Sanctuary
Fast facts
Area covered-
550square.kilometers.
Best time to visit-
November-March.
Location-
The sanctuary is located in the district of Kolasib in Mizoram.
Know Dampa Wildlife Sanctuary!
The Dampa Wildlife Sanctuary is located in the district of Kolasib in Mizoram. The sanctuary lies at a distance of about 130kms from Aizwal, the capital city of Mizoram. The sanctuary covers a wide area of around 550sq.kms, which is very rich in natural vegetation cover. Summers here are very cool and winters are not so chilling. The sanctuary is an ideal place for all those who want to enjoy the beauties of Mother Nature at its best. The place is quite hilly and is covered with thick forests. The sanctuary is full of hills, jungle streams, deep valleys, ripping rivulets, salt licks etc. The height of the sanctuary ranges from 200m to 800m. The time period between the months of November-March is the ideal time for visiting the place.
Flora-
The sanctuary abounds in natural vegetation cover and comprises of various rare species of plants & trees. Some of the common species of vegetation found here are Dipterocarpus turbinatus, Terminalia myriocarpa, Dipterocarpus marcocarpus, Psteropernum personatum, Michelia champaca, Aedinia caudifolia, Tonna ciliata, Artorocarpus chaplasha, Syzygium cumini, Sterculia vilosa and various other species of orchids & bamboos.
Fauna-
The sanctuary is a home to various animals like Rhesus macaque, Assamese macaque, Giant squirrel, Pigtail macaque, Hoolock gibbon, Leaf monkey, Tiger, Indian Elephant, Himalayan black bear, Leopard, Barking deer, Porcupine, Gaur, Sloth bear, Wild boar and many more. One can also see various types of reptiles like Python, Monitor lizard, Hill Tortoise, King Cobra and many more.
Avifauna-
Various types of birds are found here that includes both residential as well as migratory birds. Some of the common avifauna seen includes Great Indian hornbill, Emerald dove, Peacock pheasant, Malbar pied hornbill, Crested serpent eagle, Red jungle fowl etc.
Other places to visit
While visiting the Dampa Wildlife Sanctuary, one can also visit the famous Counter Insurgency and Jungle Warfare School (CIJWS). The school is located in the north-eastern part of Mizoram. The school was incepted in the year 1970 and is reckoned as one of the most well known anti-terrorist institution. Soldiers of Indian army & the U.S army regularly participate in the exercise that is given for the guerrilla warfare.
Accommodation
One can get a cheap lodging at the Traveler