5 Days to See Lemurs in Madagascar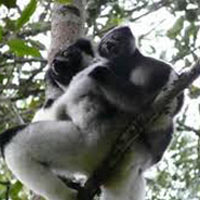 5 Days to See Lemurs in Madagascar
Package Duration

5 Days / 4 Nights

Destination Covered

Madagascar - Antananarivo
Description :

5 days to discover the famous lemurs of Madagascar.
Discover the biggest of Lemurs the Indri Indri in its territory in the natural reserve of Andasibe Analamazaotra, and other species of Lemurs.

Package Includes :

All inclusive: Hotels, Foods, Car rental, Ticket and local guide in Parks (National and Private), English speaking tour manager.

Package Excludes :

International Flights, Drinks, Tips, Souvenirs




Day 1: Arrival in Antananarivo

Meals: Dinner




One of our representant wil meet and welcome you at the international airport of Ivato Antananarivo and then will take you to your hotel.

Day 2: Antananarivo - Andasibe

Meals: Breakfast, Lunch, Dinner




Drive North Estern to reach the village of Andasibe.

Day 3: Natural reserve Andasibe / Analamazaotra

Meals: Breakfast, Lunch, Dinner




Visit of the Reserve of Andasibe Analamazaotra where we'll meet the biggest lemurs in Madagascar and in the world, the Indri Indri. These cute beast cry and sound like whales that can be heard from miles away.

Day 4: Andasibe - Antananarivo

Meals: Breakfast, Lunch, Dinner




On the way back to the Capital, we'll visit another park where we will make you discover all the reptiles of Madagascar such as: chameleons (one amongst the smallest in the world: 2 cm) and the biggest 60 cm, snikes like the Boa manditra and other species of animals.

Day 5: Lemur's park - Abroad

Meals: Breakfast, Lunch, Dinner




Today you will discover Antananarivo, the capital, full of history. We go from the Independance street to the Queen's Palace. Then we take lunch at Lemur's Park adn make an hour visit there to see lemurs we have not seen along the tours... On the way to the airport we can stop for a while at the artcraft market where you can acquire some souvenirs of Madagascar... and Good Bye Madagascar......!





Latest Tour Packages by
Madagascar Guide Accompagnator